On this final Wedding Wednesday, we thought we'd take a look back over the last year to share with you our Top 5 most popular Wedding Wednesday posts here on the blog. Unsurprisingly, the blingiest posts top them all! But a lovely addition of two bridal party attire trends swept into our Top 5, and we're predicting they'll remain popular for next year, as both posts talk about some 2012 wedding trends.
1. 2012 Engagement Ring Trends
The ladies (and gents) love to ogle the hottest trends in bridal

2. Neutral Bridesmaids Dresses Take the [Wedding] Cake
Shades of blush, gray and nude create a stunning, yet simple palette
3. Kim Kardashian's Wedding Day Jewels
The popularity of this post has far surpassed the length of the marriage
4. Engagement Ring Trends 2012 – Colored Stones
Bridal jewelry is about to get a lot more colorful
5. Green Bridesmaids Gowns
Our readers think it's perfectly easy being green, and looking lovely in the hue to boot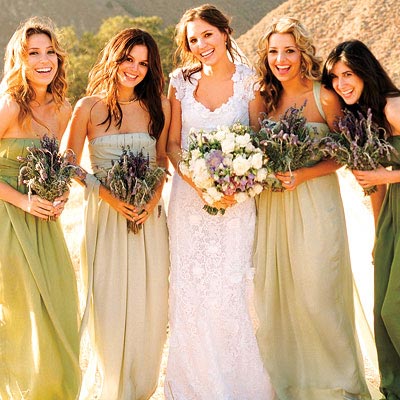 Have a Happy Wedding Wednesday readers, and we can't wait to continue to share the love every Wednesday next year!
Liz for Raymond Lee Jewelers, South Florida's choice for vintage engagement rings, antique wedding bands and wedding trends.
Related articles