We love celeb engagements. Not only are they hot gossip in Hollywood and beyond, they give us plenty of opportunities to ogle beautiful celebrity engagement rings! Stars go to great lengths to ensure that their intended wears a unique, beautiful and -ahem- impressive diamond, and we always love seeing the designs that they and their jewelers create. The past few months (and the past few weeks especially) have brought an onslaught of brand new celebrity engagements, and today we're sharing our favorites from the most recently betrothed couples – congratulations, Hollywood!
Jessica Biel & Justin Timberlake
Splash News via US Weekly
Jessica Biel and long time beau Justin Timberlake reportedly got engaged over the holidays. While the couple stayed mum about the happy news, their jeweler inadvertently outed them! For months, paps and fans alike have been itching for a glimpse of J. Biel's new ring, and we were so excited last week when she finally stepped out in public wearing this massive diamond. The couple is (unsurprisingly) keeping the details private, but it looks like a princess or radiant cut, vintage-style, definitely custom, and likely more than 5 carats.
We love radiant cut stones (and princess cuts too!) and this gorgeous, huge stone reminds us strongly of one of our favorite diamonds in the showroom:
Snooki & Jionni LaValle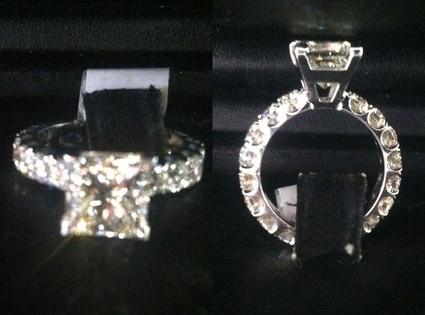 We shared Snooki's ring last week when she confirmed that she's engaged (and pregnant!) And today we've got a closer look at her 3.02ct princess cut diamond, set in a platinum band with 2ctw of diamonds. Ben Bekdas of B&B Jewelry in – where else – New Jersey designed and created the ring for Jionni LaValle.
We showed you a princess cut ring from our showroom last week, but now that we've seen the way that Snooks' band's diamonds are set, we think this emerald cut looks pretty similar too:
Halle Berry & Olivier Martinez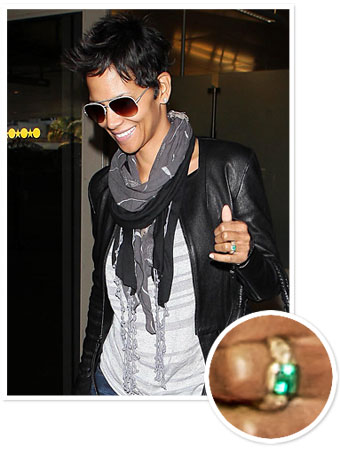 Halle & Olivier, who met on the set of their movie "Dark Tide" in 2012 are another couple who at first kept mum about their engagement. Halle's Fiance Olivier Martinez confirmed the news enthusiastically to the Miami Herald last weekend. Halle's yellow gold and emerald ring is beautiful and entirely unexpected. From what we can see, it's a radiant-cut bezel set emerald in a yellow band that might have scrollqork or an engraved design.
Here are two of our more unique emerald rings. We love both!
Courtney Robertson and Ben [The Bachelor] Flajnik
Spoiler alert – Courtney "won" the Bachelor on Monday evening. She now sports this beautiful Neil Lane cushion cut diamond for the remainder of their relationship, however long that may be. We love the intricate floral detailing that surrounds the entire ring and mounting, and the center cushion-cut 3ct diamond. But our favorite part is the tulip motif that forms the diamond's mounting. It reminds us of one of our floral-accented diamond rings:
Whose famous engagement ring do you like best?
Liz for Raymond Lee Jewelers, South Florida's choice for buying and selling  engagement rings, wedding bands and wedding trends.
Related articles