Cubic Zirconia Rings' Role in Fashion and Self-expression
The Cubic Zirconia ring is the perfect way to elevate any outfit and express your style. With its color, Cubic Zirconia band is a must-have for any fashion-forward individual.
Imagine walking down the street, the sun catching the gleam of your sparkling ring. And heads turn as you pass by. That feeling of confidence and style is exactly what Cubic Zirconia bands can bring to your life.
Not only do Cubic Zirconia rings add a touch of glamour to your look, but they also allow expressiveness. You get to express your personality through your fashion choices.
In this post, we'll explore the world of cubic zirconia, from its origin to the latest trends. We'll also share tips on how to wear and care for the rings. Whether you're an enthusiast or just starting to explore, this post is for you.
A Brief History of Cubic Zirconia Rings in Fashion
When you think of jewelry, diamonds are likely the first gemstones that come to mind. However, Cubic Zirconia has been a popular alternative to diamonds for centuries. The first form of the Cubic Zirconia stone came into light in 1937. Then, M. V Stackelberg and K. Chudoba introduced it.
The people that discovered Cubic Zirconia didn't think it would be jewelry-worthy. When scientists discovered it first in Russia, it was for laser technology. While scientists did everything to achieve the goal, some curious minds had questions. The question 'what if they used these Cubic Zirconia stones for Jewelry?" gave more answers. Interesting ones. One of which has brought us here today.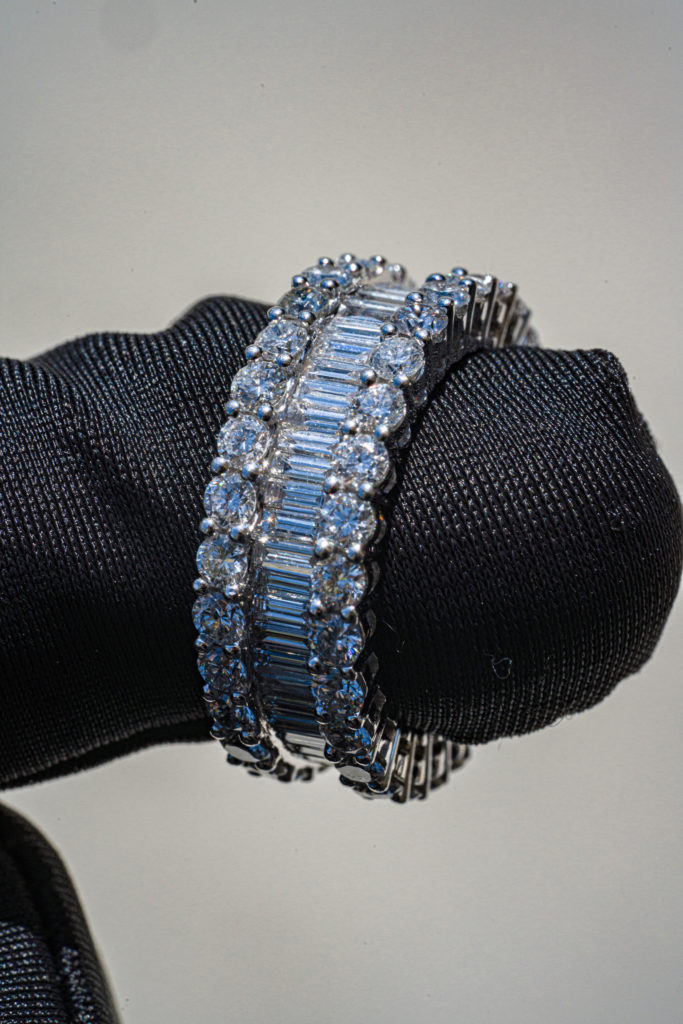 Through this question, scientists discovered that Cubic Zirconia could also be used as jewelry. When they saw Cubic Zirconia as jewelry, people saw its similarities with Diamonds.
In the 1970s, Cubic Zirconia jewelry became more widespread and gained popularity. Many people embraced it as a way to add a touch of luxury and glamour to any outfit without breaking the bank. The fact that it had uncanny similarities with real diamonds also gave it an edge. Cubic Zirconia rings, in particular, became a staple in many jewelry collections. This happened due to their affordability and versatility.
Today, Cubic Zirconia rings continue to be a popular choice for fashion-conscious individuals. The use of Cubic Zirconia in fashion has also led to the creation of more intricate designs.
But Cubic Zirconia rings aren't just about their unique history and great looks. They also allow you to express your style and add a unique touch to your outfit. No matter your preferred style. It could be classic or understated elegance, and Cubic Zirconia would fly. You could also use it with bold and colorful statement pieces.
Fun Facts About Cubic Zirconia Rings
There are a lot of things to explore with Cubic Zirconia rings. If this isn't your first time hearing about Cubic Zirconia, you probably know some. However, there are more facts for you to learn. And, if this is the first time you hear about Cubic Zirconia, here is an opportunity. You get to learn some fun facts about this sparkling jewelry:
Cubic Zirconia is from the Mineral Element Zirconium Oxide
The first thing to note here is that Cubic Zirconia is unlike other natural gemstones. This is man-made. Specifically, in a laboratory using Zirconium oxide.
Cubic Zirconia was First Found by German Scientists
You may be familiar with the popular history that says it became relevant in the 1970s. Before the 1970s, Cubic Zirconia existed, German scientists found Cubic Zirconia in 1937. But the scientists dismissed it as irrelevant for several years. Its relevance came back in the 1970s courtesy of soviet-era scientists.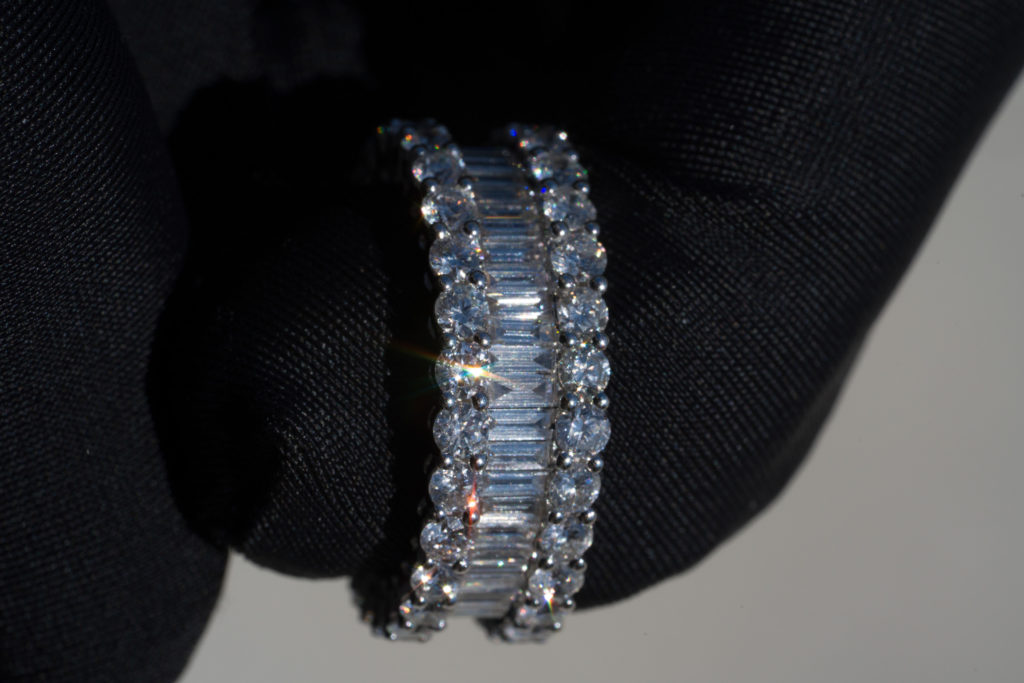 Cubic Zirconia has Uncanny similarities with Diamonds
One of the first features of Cubic Zirconia is its similarities with Diamond. To date, the similarities stand and have become a fact that we live with. At first glance, you may not be able to tell the difference between a diamond and Cubic Zirconia. But of course, there are differences you would see eventually because one is natural and the other isn't. one of these differences is the lack of inclusions in Cubic Zirconia.
Cubic Zirconia is Heavier than Diamond
Cubic Zirconia is not only heavier than diamonds, but it is also about 75% heavier. This is a lot and may come across as a surprise but it is the fact. Of course, Cubic Zirconia is not as hard as diamond. Mohs scale places Cubic Zirconia between 8- 8.5, which may be as hard as Topaz. But, still not as hard as diamonds.
The Versatility of Cubic Zirconia Rings in Fashion and Style
When it comes to fashion and style, versatility is key. That's where Cubic Zirconia rings come in. They are versatile and you can incorporate them into a wide range of looks. Whether you're going for a minimalist, or a bold look, Cubic Zirconia bands can help you achieve all.
To be specific, here are some common ways to wear your Cubic Zirconia
Mixing and matching with other jewelry pieces
Cubic Zirconia does not discriminate. From the start, people have learned that it does well with other jewelry sets as much as it does alone. By wearing your cubic zirconia with other pieces of jewelry, you give a unique look. For example, you could pair your band with a simple gold or silver bracelet. You could also stack it with other beaded bracelets for a bohemian vibe.
Wearing it for both formal and casual occasions
Another great thing about the ring is that it can work for different occasions. For a more formal event, you could pair your band with a cocktail dress and heels. And, for a casual day out, you could wear it with a simple t-shirt and jeans.
Using it to accessorize different outfits
It does not matter whether you're wearing a bright and colorful or neutral outfit. A sparkling cubic zirconia ring can add a touch of glamour and sophistication to your look. It can also help to tie together different elements of your outfit. For instance, matching the color of the ring to your shoes or handbag.
Playing with different styles and designs
From understated to bold and statement-making, there are different styles to choose from. When you experiment with different styles, you discover new things. This is when you can find the perfect ring to complement your style.
Personalizing your cubic zirconia Ring
One of the best things about cubic zirconia rings is that they can be easily customized. Whether you want to add a special date or initial, there are many options for making it unique
Tips On How to Style Cubic Zirconia Bands/Rings for Different Occasions
Want to make sure you're getting the most out of your Cubic Zirconia rings? Here are some tips on how to style them for different occasions.
For a casual daytime look, pair a simple Cubic Zirconia Ring with jeans and a t-shirt
If you want a subtle way to add sparkle to your everyday look, a cubic zirconia ring is great. This classic style works well with a variety of outfits but looks chic when paired with blue jeans and a t-shirt. The key here is to keep the rest of your accessories understated. You need to do this so that your Cubic Zirconia band can shine.
Layer many Cubic Zirconia bands for a statement-making look at formal events
Headed to a black-tie affair? you want your accessories to be just as elegant as your gown or suit. To achieve this, try layering Cubic Zirconia bands on one finger. You get a look that is both sophisticated and eye-catching. Make sure to choose Cubic Zirconia rings in complementary colors and styles. This is so that they look like they belong together.
Pair a single CZ band with a black dress or suit for a subtle touch of glamour
Sometimes, less is more. If you're headed to a formal outing, try pairing a single Cubic Zirconia ring with a simple black dress. This will create a chic and timeless look that will never go out of style.
Mix and match Cubic Zirconia bands with bangles for a bohemian-inspired look
If you're a fan of the chic style, try pairing a colorful Cubic Zirconia band with a stack of bangles. This combination of textures and colors will add depth and interest to your outfit. And of course, it will make your accessories feel planned over time.
Maintenance and Care of Cubic Zirconia Rings
You may have invested in a ring that captures your style, and rightly so. But how do you ensure it retains its sparkle and shine? Here are some tips and tricks for maintaining your Cubic Zirconia ring:
Do this with warm water and mild soap to remove dirt and debris that may have accumulated. Avoid harsh chemicals. Also, avoid abrasive materials that can damage the band's surface and setting.
It's important to clean it regularly to prevent the buildup of dirt and debris, which can dull its shine. To clean your band, soak it in warm water with mild soap, then gently scrub it with a soft-bristled brush. Avoid using harsh chemicals or abrasive materials like toothpaste. This is because they can scratch or damage the band's surface and setting. Instead, use a soft cloth to dry and polish your band.
Store your Cubic Zirconia Ring in a dry and cool place
The stones are for their sparkle, but they can be sensitive to extreme temperatures. To prevent discoloration or fading, store your ring in a cool and dry place. Store away from direct sunlight and heat sources like radiators or heaters. A jewelry box or a soft cloth bag can be great for storing. It will protect your Cubic Zirconia from scratches or damage.
Avoid wearing your Cubic Zirconia band during Certain activities
Some activities may cause it to come into contact with harsh chemicals. This can cause scratches or chips on the surface of the Cubic Zirconia stone. While these stones are hard and durable, they can become damaged because of chemicals.
Avoid wearing your Cubic Zirconia band while doing some activities. Activities like cleaning or sports can expose it to chemicals or rough surfaces. So, avoid them. And, if you wear your ring during such activities, be sure to clean it afterwards to prevent damage.
Consider taking your Cubic Zirconia ring to a professional jeweler for cleaning
These professionals have the expertise. They also have the tools necessary to clean and inspect the ring's settings. A professional jeweler can help maintain your Cubic Zirconia shine and sparkle. This is because they have access to specialized tools and techniques. These tools help to clean the ring, and can also check for other issues that may need attention. Taking your Cubic Zirconia ring to a jeweler once or twice a year to help ensure its longevity.
Endnote
Cubic zirconia rings continue to play a significant role in fashion. From their affordability to their versatility, Cubic Zirconia offer benefits. And, these benefits indeed appeal to fashion lovers and enthusiasts. They allow you to express your unique style and personality, not minding the type of look.
While Cubic Zirconia rings may not be diamonds, they offer a similar level of beauty. Whether you're wearing them for a special, or as an everyday occasion, they elevate your look. And of course, also make you feel confident and stylish.
Cubic Zirconia rings are not just accessories. They are a statement of self-expression. They can help you feel confident and fashionable. So go ahead, express yourself, and let your Cubic Zirconia ring be a reflection of your style!
Remember to take proper care of your Cubic Zirconia rings by cleaning them regularly/. Also, avoid exposure to harsh chemicals. When you do the necessary, your ring will maintain its sparkle and shine for years to come.