Cushion Cut Diamond Eternity Bands
More than eight billion people in the world, and some are shopping for engagement bands. Others are trying to get their perfect wedding rings. And of course, we have people who would like to give their loved ones rings to celebrate an anniversary. Being in any of these positions is a privilege that comes with living, and loving. Why not do it the best way by getting the perfect ring? You have the finest accessory in a cushion-cut diamond eternity band. So, embracing it may be the best option for you. Of course, you can always mix your cushion cut band with other jewelry pieces.
This stunning piece of jewelry features a continuous loop of diamonds. Each of the loop is in a cushion shape. It wraps around your finger like a glittering ribbon. The cushion cut is popular for its rounded corners and large facets. This gives it a soft and romantic appearance. Because of its appearance, it is perfect as a wedding band. It can also be immaculate for other special occasions.
How Long Has the Cushion Cut Diamond Eternity Bands Been Around?
The cushion cut has been popular for many centuries. First spotted in the 1700s in Brazil, it was a pretty popular design at the time. It's still one of the most sought-after diamond shapes today. But, from its initial reign in the 1700s to date, there have been major improvements. The old cushion- cut had 58 facets. But today, most cushion- cuts come with rare  64 – facets. No wonder it sparkles brightly in a room.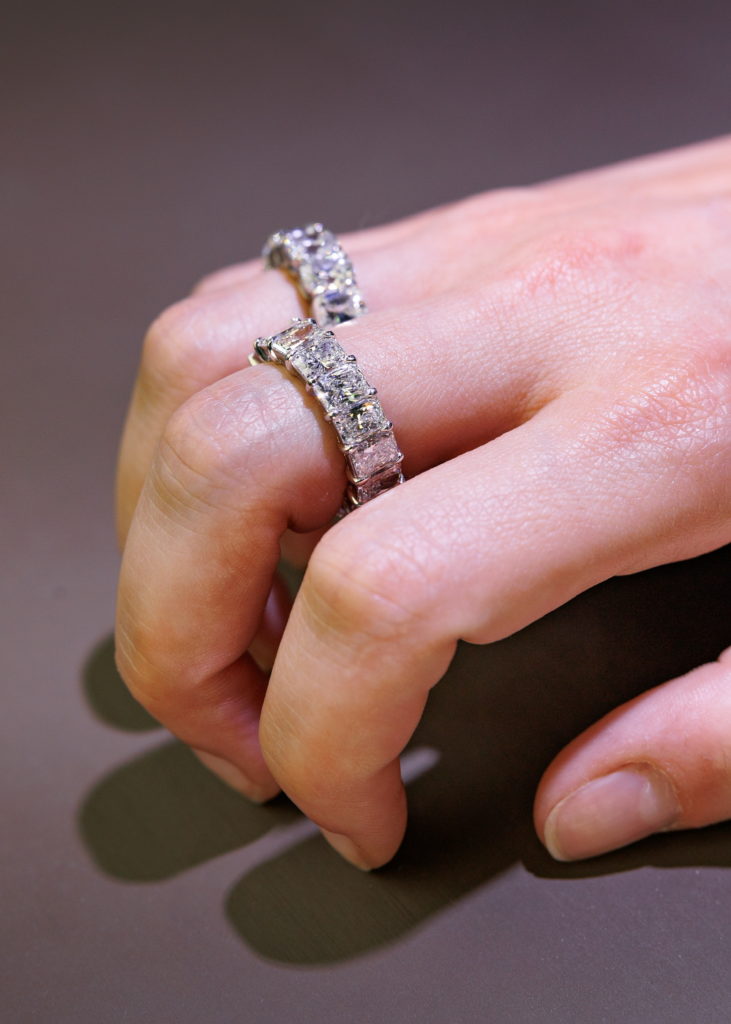 The diamonds are set in a continuous band, so you won't have to worry about them shifting around on your finger.
Exploring the Unique Features of Cushion Cut Diamond Eternity Bands
Since the first cushion-cut diamond in the 1700s, there have been improvements. As a first-time buyer, you get to see some of the best features any band can have. These features are what make the cushion-cut diamond eternity band special:
Cushion Cut Diamond Shape
The cushion cut is a square or rectangular shape with rounded corners. Its shape is what gives it a soft appearance that is ideal for jewelry. The cut features larger facets, giving the diamond more depth. It is also what allows the creation of the characteristic "fire" that is visible in the stone.
Continuous Circle of Diamonds
The eternity band is a continuous circle of diamonds. It is where the name "eternity" originates from. It is what makes it a perfect symbol of never-ending love and commitment. Unlike other bands that feature a central stone, eternity bands are just diamonds. This means that they sparkle from every angle. This makes them a stunning addition to any outfit and a perfect choice for special occasions.
Cushion-cut diamonds appear larger than other diamond shapes of the same carat weight. They appear larger due to their elongated facets. This makes them an excellent choice for people who want to make a statement.
The cushion-cut diamond shape is an antique cut that has been popular for over a century. It is often associated with vintage glamour and has a timeless elegance. Hence, it is perfect for those who want a piece of jewelry that will never go out of style.
The truth is there will always be milestones to celebrate as long as we are alive. And, there are generally accepted ways to celebrate these milestones. A good gift, flower, or special date is one way to make your loved one feel special. However, a  diamond ring will also always be one of the best ways to make that person feel loved. So, here are some specific moments to make your grand gesture with the Eternity band.
Celebrating Special Moments with a Cushion Cut Diamond Eternity Band
There are special moments in life that are worth celebrating. And, of course, a cushion-cut diamond eternity band is the perfect way to celebrate them.
A cushion-cut eternity band is an ideal gift to celebrate a milestone anniversary. It does not matter whether it is 10, 20, or 50 years of marriage. The cushion-cut diamonds represent the comfort and stability of your relationship. In addition, the eternity band design symbolizes the unending nature of your love. It's a reminder of the commitment that has gone into building a lasting relationship.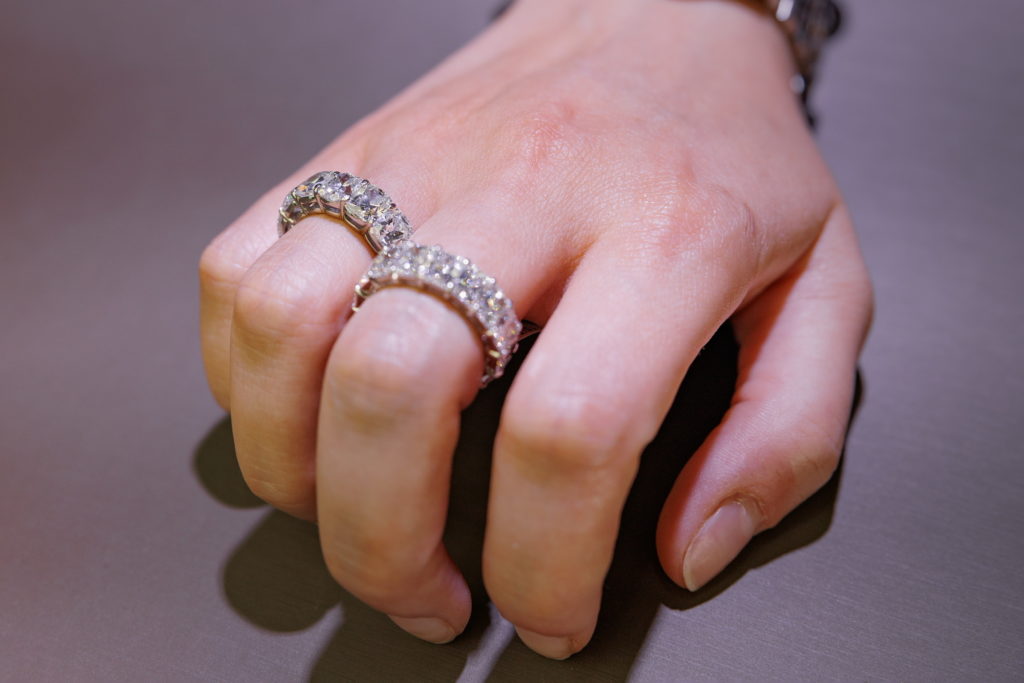 Ever heard of an engagement where the people used a cushion-cut diamond eternity band? We have, and they have been perfect. There is a high chance the stories have given birth to a picture-perfect ceremony. Essentially, a cushion-cut diamond eternity band is perfect for proposal. The cushion-cut diamonds add a vintage charm and uniqueness to the ring. Again, it combines with the eternity band to depict the endless love you have for your partner. It's a timeless and enduring symbol of your love, perfect for the beginning of a lifetime together.
A cushion-cut diamond eternity band is an excellent way to celebrate a birthday, such as a 30th or 40th. The ring can represent a special accomplishment like graduating from college. Every time the wearer looks at the ring, they will remember the hard work that went into achieving the goal.
A cushion-cut diamond eternity band is a beautiful and meaningful gift for a new mother. It's a touching way to honor the special bond between a mother and her child.
Getting the opportunity to celebrate retirement is not a privilege that everyone enjoys. So, when you have someone in your life who gets to enjoy this privilege, it is best to go all out. Yes! There are many ways to let people like these know that you are proud of them. But you will hardly be able to get one that rivals giving them a cushion cut diamond eternity band.
A cushion-cut diamond eternity band is a powerful reminder of personal achievement. For a gift that will make a strong statement with its presence, it is a perfect depiction of an achievement. We see no reason why you shouldn't use it to celebrate the personal achievement of a loved one.
Everything you have learned so far points to the versatility of a cushion cut band. It is good for representing love, just as it is a perfect way to celebrate stability. Also, a flawless gift for celebrating anyone you consider special in your life. So, it works for all and it works always!
Quality and Durability of Cushion Cut Diamond Eternity Bands
Diamonds are often seen as a symbol of love, and a cushion-cut diamond eternity band is no exception. These rings should last a lifetime, able to pass them down from generation to generation. But what makes cushion-cut diamond eternity bands so durable and long-lasting?
Cushion-cut diamonds are popular for their brilliance and fire. If you are familiar with diamonds, you know what fire and brilliance signify in a stone. If you don't, well, it means that flaws are less noticeable, resulting in a higher-quality diamond.
Eternity bands have some of the most protective designs in the diamond world. It has diamonds that are set around the ring, creating a continuous circle of sparkle. This setting not only looks beautiful, but it also protects the diamonds from damage. It is also good for keeping them in place.
Platinum is a popular choice for cushion-cut diamond eternity bands. This is due to its strength and resistance to wear and tear. It also won't tarnish or lose its luster over time. It will ensure that the ring will continue to look beautiful for years to come.
Cushion-cut diamond eternity bands are relatively low maintenance. Regular cleaning and maintenance by a professional jeweler can help ensure longevity. And because eternity bands have diamonds around the ring, there is no "front" or "back" to worry about. This makes it easy to wear daily.
Choosing the Right Cushion cut diamond eternity Band for Your Style
Whether you are buying this band for yourself or a loved one, there is work to do beyond choosing the band. Before the band gets into your hand either from gifting or buying, there are things to consider and do:
When choosing a cushion-cut diamond eternity band, it's essential to think about style. Are you someone who likes classic, timeless pieces, or do you prefer something more modern? Do you usually wear yellow gold, or do you prefer white gold or platinum? By considering your styles, you can choose a ring that you'll love and enjoy wearing every day.
The metal setting is a crucial factor when choosing a cushion-cut diamond band. It can change the overall appearance of the ring and affect its durability. White gold is a classic choice that has a similar look to platinum but is more affordable. Rose gold is a trendy and warm option that can add a touch of uniqueness to your ring.
The 4Cs (cut, color, clarity, and carat weight) are essential factors to consider too. As expected, you need to look out for them in your cushion-cut eternity band. The cut determines the diamond's sparkle and fire. The color and clarity affect its overall appearance. The carat weight determines the diamond's size and overall impact. When you check these factors, you can choose a diamond that meets your preferences and budget.
It's always a good idea to try on a few different cushion-cut diamond eternity bands. Try on the different ones that are available before deciding. This can help you determine which style and size suit you best and ensure that you're happy with your choice.
Think About the BandWidth
The bandwidth can significantly impact the overall appearance of your band. A wider band can give your ring a more substantial and bolder look. When you go for a thinner bandwidth, the look becomes entirely different. With a  thinner band, you should expect a more delicate and feminine look.
Adding personal touches to your cushion-cut diamond eternity band is good. While all cushion-cut diamond bands are special, it is what you can do with yours that makes it stand out. You may want to add engraved initials, a special date, or a meaningful symbol to your ring. Many jewelers offer customization options, and rightly so. It is these customization options that create a ring that reflects your unique style.
Choosing the right cushion-cut diamond eternity band can be overwhelming. It is even more intense if you're not familiar with diamonds and jewelry. Seek professional advice from a jeweler who can guide you through the process. This professional may also help you find the perfect ring for your style.
Conclusion
You're looking for a beautiful piece of jewelry that will make you feel special. Look no further than the cushion-cut diamond eternity band! This piece is not only stunning but also versatile and a wise investment.
You can wear it alone or stacked with other rings for a more personalized and intricate look. And with the option of different metals, you can truly make it your own.
This piece will not only be a treasured addition to your jewelry collection. Because of the quality, and history, you can also pass it down to another generation.
So, if you're looking for a beautiful band, the cushion-cut diamond eternity band is a perfect choice. Treat yourself to this piece that will make you feel special every time you wear it.