Diamond Eternity Bracelet
Bracelets, such as a diamond eternity bracelet, are a great addition to any look. The great thing about classic and timeless styles such as this is that they look great with so many different styles and looks. This is a bracelet that you can wear to pretty much any event, from black tie to informal. Bracelets are fun accessories that come in a huge range of shapes and styles. From the classic tennis bracelet to a bangle-style bracelet such as we feature here, this is a unique and versatile accessory. It is a great way to add to your signature look, as well as a great option for those special occasions.
The great thing about bracelets as an accessory is that they come in so many styles. From tennis bracelets to chunky bangles, from classic chains to crossovers, there really is something for everyone. You can find high-end bracelets in styles ranging from classic to whimsical. Here, we look at a more classic style that can easily be integrated into any kind of look. Whether you like bold and trendy fashions or are a bit more classic, the bracelet is a great accessory for everyone. 
The Joy and Beauty of Accessories
Think about the power of accessories. These fun and beautiful pieces of art that we can wear are one of the best ways to show the world a few things about ourselves. The accessories we choose can tell others quite a bit. For example, they can show others that we care about the finer things in life and are willing to pay a premium for good quality. But more than that, they can show that we have a classic style or a more fun and playful style. Really, accessories can go a long way toward making a positive first impression. And it shouldn't come as a surprise. 
We develop our first impressions of people pretty quickly. Often, they don't even have to speak to us before we think we have a general idea of what the person is all about. Rather, the way we dress, carry ourselves, and the accessories we wear can go a long way toward that first impression. So it does make a lot of sense that people want to put some effort into their looks. A bracelet like the diamond eternity we feature here will show others that you care about quality and appreciate timeless style.
Bracelets Add to Your Signature Style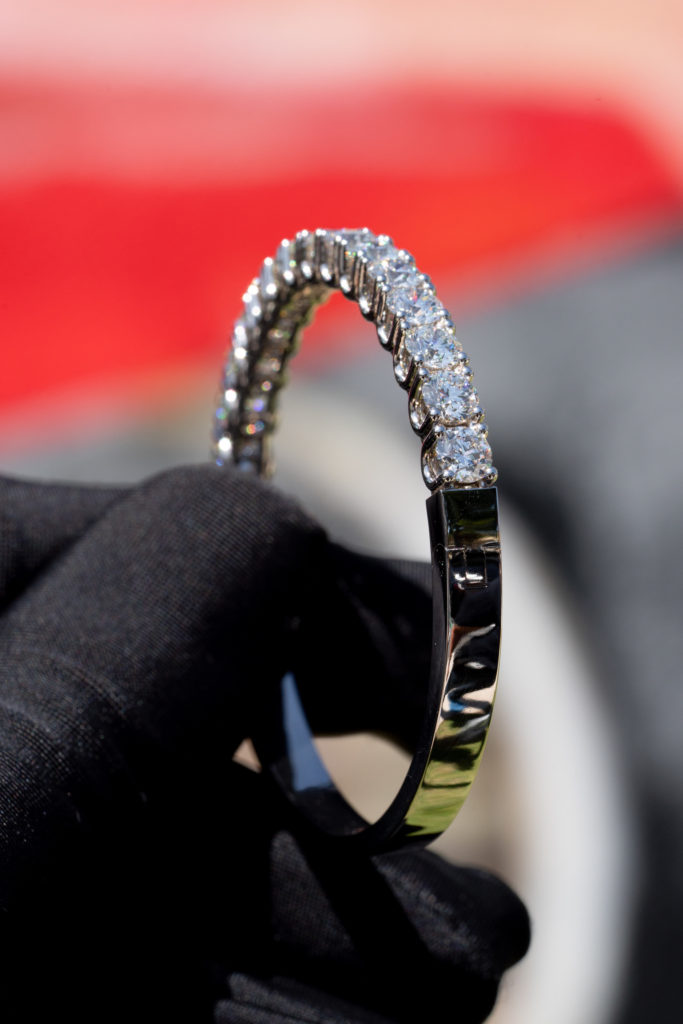 When we consider jewelry, sadly, a bracelet is probably one of the last things we consider. This is a real shame. Bracelets, whether the diamond eternity bracelet we are featuring here or something a little different, are a great addition to any signature style. The great thing about bracelets is that they come in a huge range of shapes and styles. Here, we have a bangle bracelet with a clasp closure. What this means is that you can either push the bracelet over your hands and onto your wrist, or you can use the snap closure. This is opposed to having more classic link closures.
The bracelet pairs really well with other accessories of different styles and materials. A bracelet such as the one we feature here is a great look for those who have a more classic and timeless style. It will pair really well with vintage or classic attire. However, the bracelet is also quite versatile. You can easily pair this bracelet with a wide range of looks for different occasions, even adding it to your daily retinue of accessories. 
The Eternity Band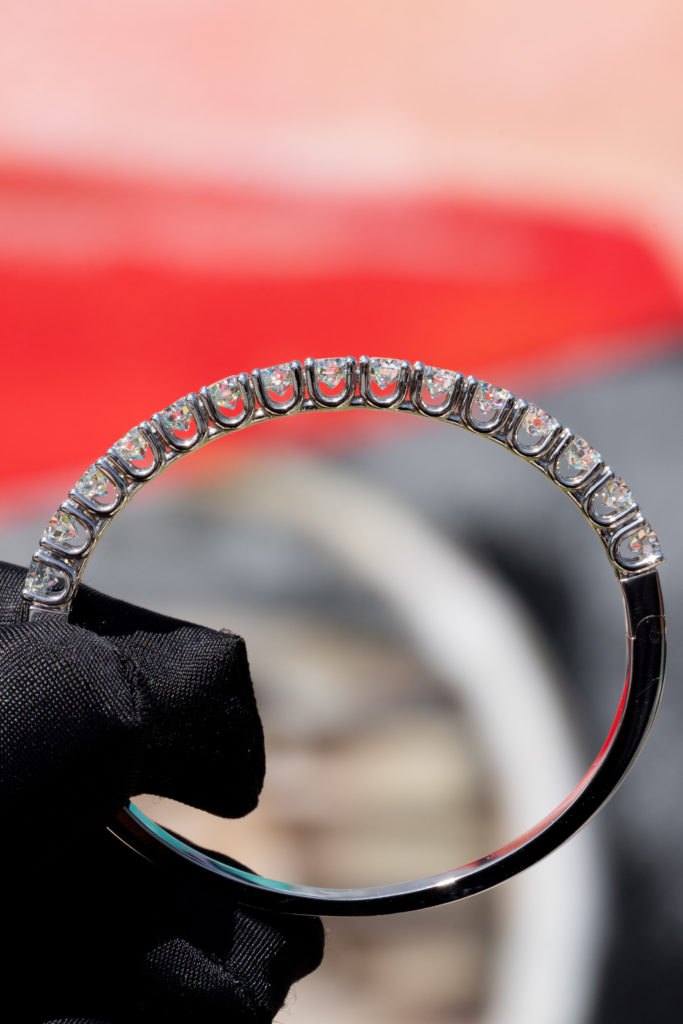 The eternity band is a popular style that is well-known in the world of jewelry. It is a simple, yet sophisticated, design that looks great with so many different types of fashion. Most often, we see the eternity band used as a wedding band. Other times, we see it as part of an engagement ring. Where we usually do not see this style is on the wrist. And we are wondering, well, why not? This is one of those classic and timeless styles that just looks good, pretty much no matter in what context you are using it. So here, we feature this stunning classic in a unique way: as a bracelet.
Eternity bands have a pretty simple design. They consist of a row of small gemstones – in this case, diamonds – that are inset by prongs into the metal that features in the piece. There are different configurations as well, including full, half, and two-thirds eternity bands. This refers to how far around the band the gemstones will go. The diamond eternity bracelet we feature here is a half eternity band, meaning the inset diamonds extend about halfway around the circumference of the bracelet. 
Timeless Design
One of the greatest things about this diamond eternity bracelet (outside its stunning looks) is its timeless design. There are so many trends and they can come and go at the drop of a proverbial hat. Of course, it is fun to have stylish and trendy accessories, but there is also something to be said for more classic and timeless designs as well. These are the kinds of pieces that will be able to grow and evolve with you as your style changes. Think about the classics – they really are hard to beat. Trends can come and go, but these timeless designs will always look great. What most commonly comes to mind is the little black dress or a well-fitting suit, but there are also accessories that fit this bill as well.
The diamond eternity bracelet we are featuring here is a great example. This is a style that defies trends. Its simple, classic design gives the bracelet that clean profile and simple elegance that just never goes out of style. Another great thing about these timeless styles is that they look great with a wide range of different styles and work for a variety of different occasions. 
Round, Brilliant-Cut Diamonds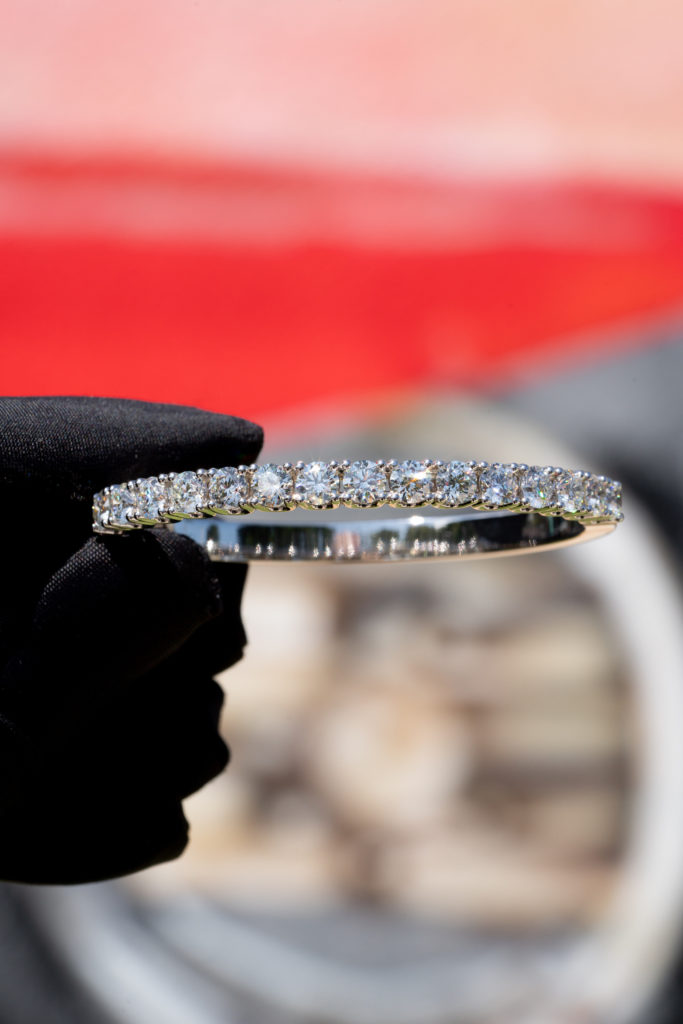 We really cannot say enough about diamonds, but chances are, we will continue to wax poetic about these stunning gemstones because, well, look at them! Diamonds make a lot of things better. They can enhance the look of anything that you pair them with and instantly, you get to feel like an absolute princess. The diamond eternity bracelet we feature here is no exception. Slip this stunning piece on and whatever you are wearing takes on an instant style and glamor. The bracelet we feature here boasts a beautiful row of round, brilliant-cut diamonds to give the piece plenty of sparkle.
Different diamond cuts are meant to enhance different qualities in the stone. Here, we are looking to maximize brilliance or sparkle. Brilliance refers to the fun play of light we see on certain diamond cuts when exposed to light. This is due to lots of small facets cut into the surface of the stone. These cuts allow for a lot of light refraction. Light refraction is what gives the gemstone that classic sparkle that so many of us know and love. This is a simple and popular diamond cut as it is the best to maximize the amount of light play you get from the stone. 
White Gold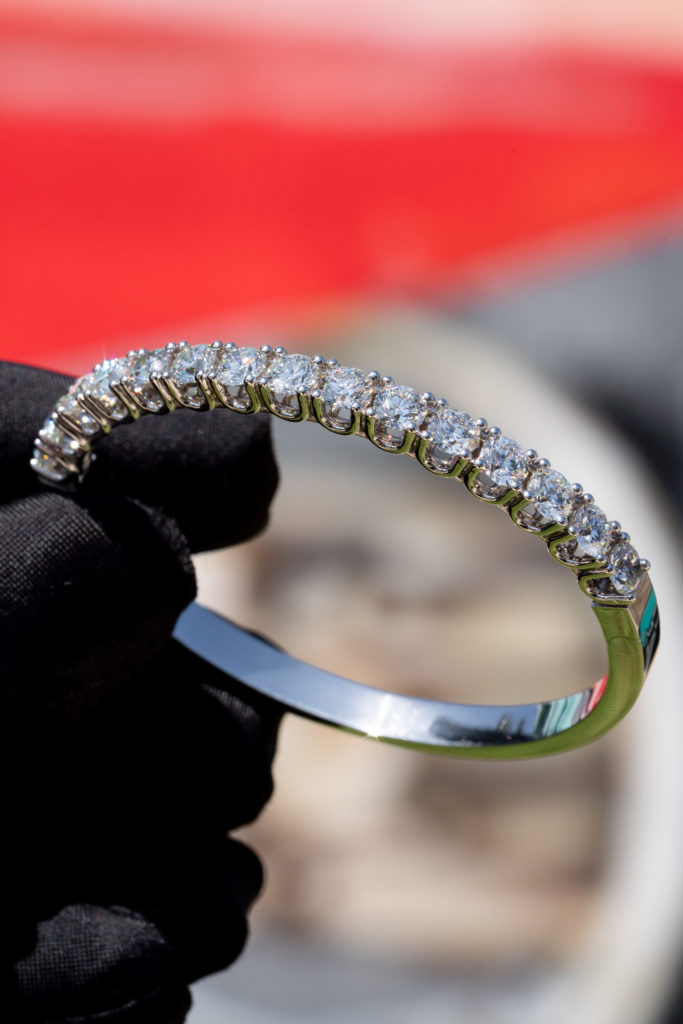 There are a few different kinds of metal that are common to high-end jewelry, but there isn't one as quintessential and classic as gold. This is a metal that we have coveted since we first discovered flakes and small nuggets of it millennia ago. Since then, we have used this metal in a variety of ways, but most commonly to adorn our bodies. When most of us think about gold, chances are we are thinking about that buttery yellow of traditional gold. This is a beautiful material that gives off a hue that is unmistakable. However, some people like the properties of gold, but aren't huge fans of the color. This is where white gold comes in.
This is a metal that was originally developed as a more affordable alternative to the rare and highly expensive platinum. However, as time passed, it has become a popular material in its own right. As with all gold jewelry, white gold is not pure gold. In its pure form, gold is far too soft. It must be blended with other metals to enhance its strength and durability of the metal. To get white gold, one simply adds a higher percentage of silvery metals to the pure gold to get the proper hue. A rhodium coating is also often used to enhance the longevity of the silvery color. 
Versatile and Elegant
Versatility is probably not what a lot of people think about when we are considering high-end jewelry. There are tons of fun pieces out there that are perfect for that special occasion, but that would look out of place if you were to wear it to the playground with the kids. High-end pieces for special occasions are great, but it is also nice to have that rare high-end accessory that is versatile and can be worn in a wide variety of contexts and situations. That is exactly what you get with the diamond eternity bracelet we are featuring here. It is a high-end piece of jewelry that is made from the finest materials. 
But, it is also a simple and classic design. This simplicity of style allows it to pair well with all sorts of different looks. You can easily pair this bracelet with a fun evening gown, but you can also pair it with jeans and a t-shirt and it won't look out of place. Whether you are spending an evening out with friends or an afternoon at the park with family this bracelet can go anywhere you do.
The Best Place for Your Jewelry Needs
Here at Diamonds By Raymond Lee, we value high-quality pieces that are different from what you can find just anywhere. We don't want to be known for having basic and run-of-the-mill pieces, we want to be known for having the best selection of rare, luxury pieces in the Boca Raton area and beyond. This is why we hire only the best buyers to source our finds. These buyers have a ton of experience as well as connections which allow them to find the best pieces from sales all around the world. They are looking for pieces that meet high standards of quality for materials, design, and construction.
It is for these reasons that our clients can have the peace of mind that anything they get from us is going to be of the highest quality and of great value. And, we offer a lot more than just fine jewelry sourced from various places around the world. We also offer custom jewelry design services so we can turn your dream into reality. Additionally, we also offer a comprehensive range of repair services for your fine jewelry.
In Closing
The bracelet is one of those accessories that we feel don't get enough love. There are so many different styles to choose from that there really are bracelets for everyone. A high-end bracelet can easily become part of your signature look or can be a piece that you reserve for those special occasions. We love the bracelet because it is so versatile and can pair well with a wide range of looks and other accessories. Here, we look at a diamond eternity bracelet. This is a bracelet that takes its style from the classic eternity band, which we often see in wedding bands and engagement rings. 
It is a simple style that consists of inset gemstones that create a smooth row of sparkly goodness. The bracelet we feature here is a classic and timeless design that will pair well with all sorts of looks. From formal to casual, from trendy to classic, this bracelet will look stunning with anything you might pair it with. You can also pair this bracelet with any number of other accessories. The sky's the limit when it comes to what you can pair with this beautiful bracelet. We know that you will look forward to every opportunity to show this beautiful bracelet off.