Flower-Shaped Diamond Ring
Not all jewelry is serious, which is evidenced well by a flower-shaped diamond ring. But just because we want something a bit more fun and whimsical doesn't mean we want to sacrifice quality. Some of us have an appreciation for the finer things in life but also don't take ourselves too seriously. Others like to show some of what they have a passion for through the accessories they wear. For these people, something stylized and a little different is just what the proverbial doctor ordered. 
There are those out there who are nature lovers and want to show their passion through the clothing and accessories they wear. While a lot of people stick with more classic styles of jewelry, that doesn't mean it is right for all of us. We want to use our accessories to show others things about us and to give hints as to our passions and underlying personality. Some do this with bold and eye-catching pieces, whereas others go for a more stylistic and whimsical design. What works best for you is simply a matter of preference. 
The Joy of Accessories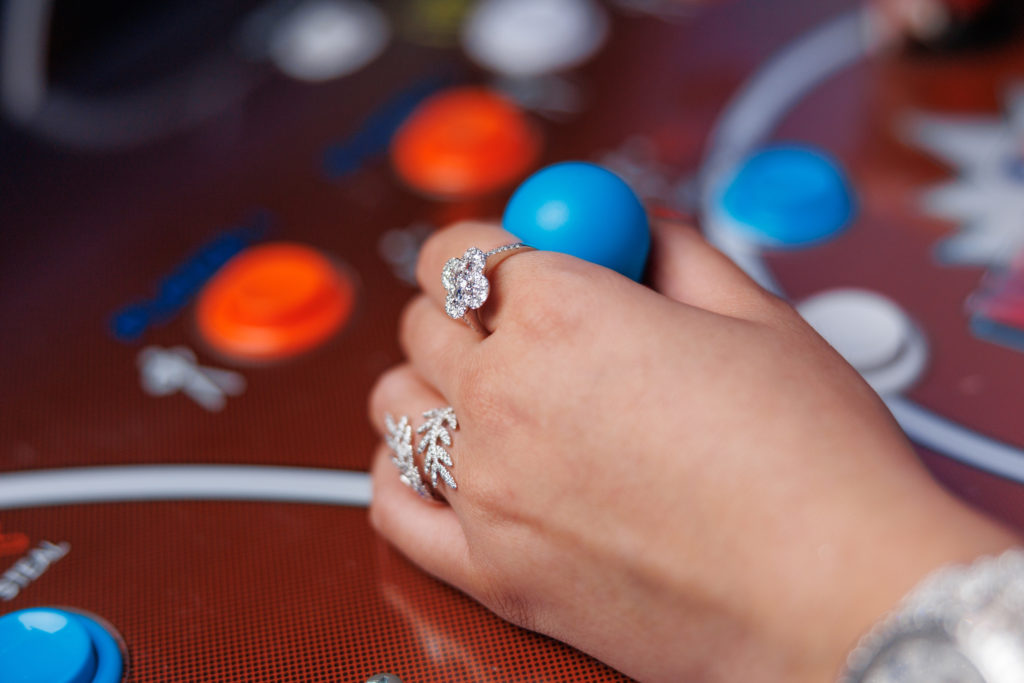 Accessories can be a lot of fun to wear. They allow us to show off who we are and what we value in life. The thing about that is, this means that they tell others an awful lot about themselves. This is why a lot of people put a good deal of effort into how they present themselves to the world. Who doesn't want to put their best proverbial foot forward in the world? Accessories can be a ton of fun to wear. They can show off our inner princess, our bold sense of style, or our love for a fun design. The flower-shaped diamond ring we feature here is a wonderful example of a fun design. 
The accessories we wear and how we pair them together help us to create a signature look that is all our own. You can easily pair different metals, gemstones, and styles of jewelry together to create a special style that is unique to you. The sky's the limit to how you can pair your accessories. Perhaps you like to be sparing and wear only a few pieces, or you want to be dripping in accessories. Each style will convey something different to the viewer. 
Rings for All Occasions
The ring is one of the quintessential accessories, but sadly, it often gets relegated to just a few roles. When most of us think about rings, chances are we are thinking about an engagement ring or wedding band. It would be safe to argue that these are some of the most important kinds of rings as they are symbols of our relationship and intention to get married. However, rings can do a lot more than just signal our relationship status to other people. Rings can be worn on any finger and by men or women. 
There are rings that are meant for the thumb and those that can be worn on any finger. The flower-shaped diamond ring we feature here can easily be worn on any finger. Commonly, people will wear their favorite ring on their ring finger on the opposite hand as one wears their wedding ring. However, you can wear rings on your thumb, your middle finger, your pointer finger, and even your pinkie! And, with so many different kinds of rings to choose from, it is easy to find the perfect design for your taste and style.
Fun and Whimsical Design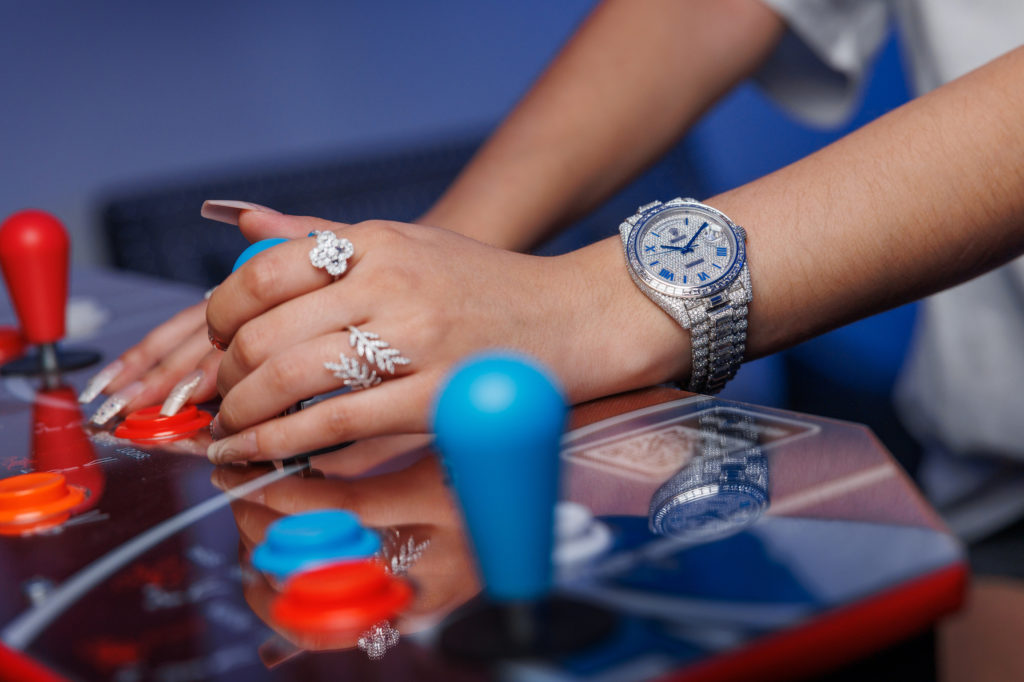 A lot of people mistakenly think that fun designs are just for young people. But this is absurd! We still love flowers and puppies and glitter and all that fun stuff as we grow up. So why should we give it up? Especially when we can elevate it to another level of style and elegance? That is exactly what we get with the flower-shaped diamond ring that features in these pieces. It has a fun design that takes its inspiration from nature. It has the stylistic shape of a flower. What this means is that the ring is not seeking to mimic nature, rather, just approximates it.
This gives the piece a fun feel. But just because it is fun doesn't mean it is childish. Quite the opposite. While this piece definitely has a fun and stylistic design, it also features the highest-quality materials possible, as well as high-end construction. Like every piece we have in our display cases, this ring had to meet the most stringent standards of quality in design, construction, and materials. So while this ring is fun and really cute, it is also a fine, high-end piece of jewelry. It is well-made and will stand the test of time. 
The Highest-Quality Materials
We have a strong commitment to quality at both of our stores. It is important to us that the pieces that our clients choose are ones that are of good value and that are well-made. The flower-shaped diamond ring that is the focus of this post is a good example of high-quality design and materials. It is too often that people assume that only classic styles of jewelry can be high-end and elegant. This ring is a great counter to that argument. While on the one hand, it is fun and whimsical, on the other it is made from high-grade diamonds and white gold. 
Just because you grow up doesn't mean you can still enjoy fun designs, but in a way that isn't childish. A piece such as this, which has fine design, quality construction, and high-grade materials defies the idea that you can't combine luxury and cute designs. We like pieces that break stereotypes and this piece really does. There aren't enough fun designs out there on high-end jewelry and we like to snap up these pieces whenever we see them. We know that there are plenty of people out there who would appreciate this blending of stylistic design and quality. 
Pave-Style Half-Eternity Band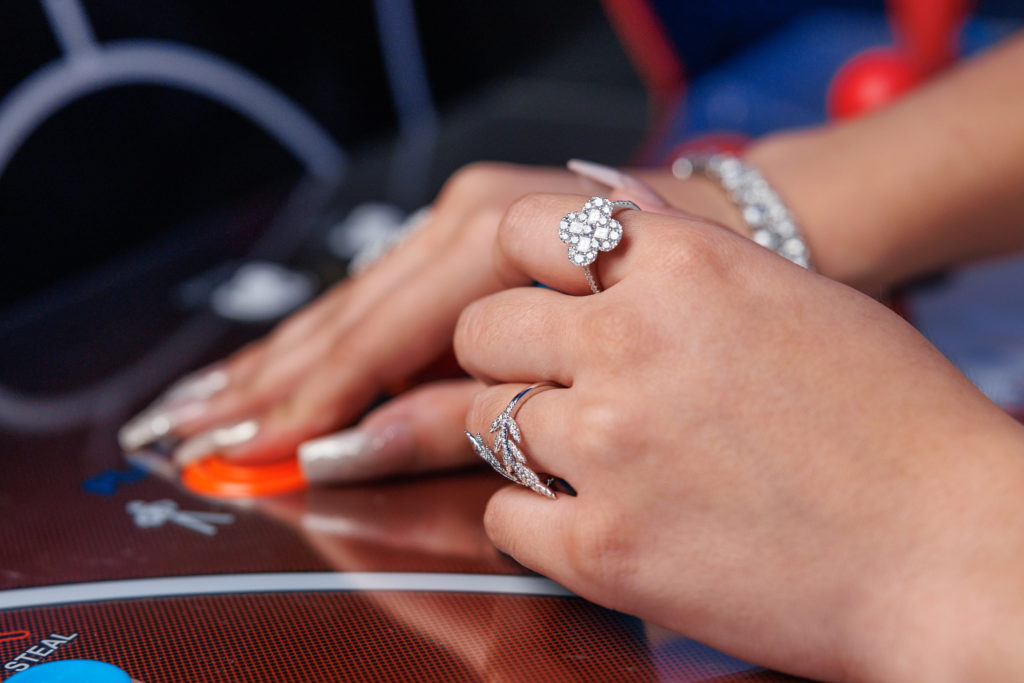 The focal point of this ring is, obviously, the flower-shaped diamond design, but that isn't all the ring has to offer. The flower is made from diamonds of different sizes and different cuts. Put together they create a fun and stylistic rendering of a flower. The types of cuts used in the ring show off both the fire and brilliance of the diamonds. Fire refers to the rainbow-like hues that emit from certain diamond cuts in the light. Brilliance, often called sparkle, refers to the play of light that occurs on gemstones that have many facets cut into the surface.
The band of the ring features diamonds that are meant to maximize brilliance. They are what we call pave-style diamonds. The word pave is French for pavement. These are tiny gemstones that are in a continuous row so as to look a bit like pavement, hence the name. While these stones are quite small, they pack quite a brilliant punch. This is one of the sparkliest cuts of diamonds you can find. When placed in a row like this, inset into the band of the ring, the diamonds form an eternity band. Here we have a half-eternity band, meaning the diamonds go around half of the band of the ring. 
The Perfect Ring for Nature Lovers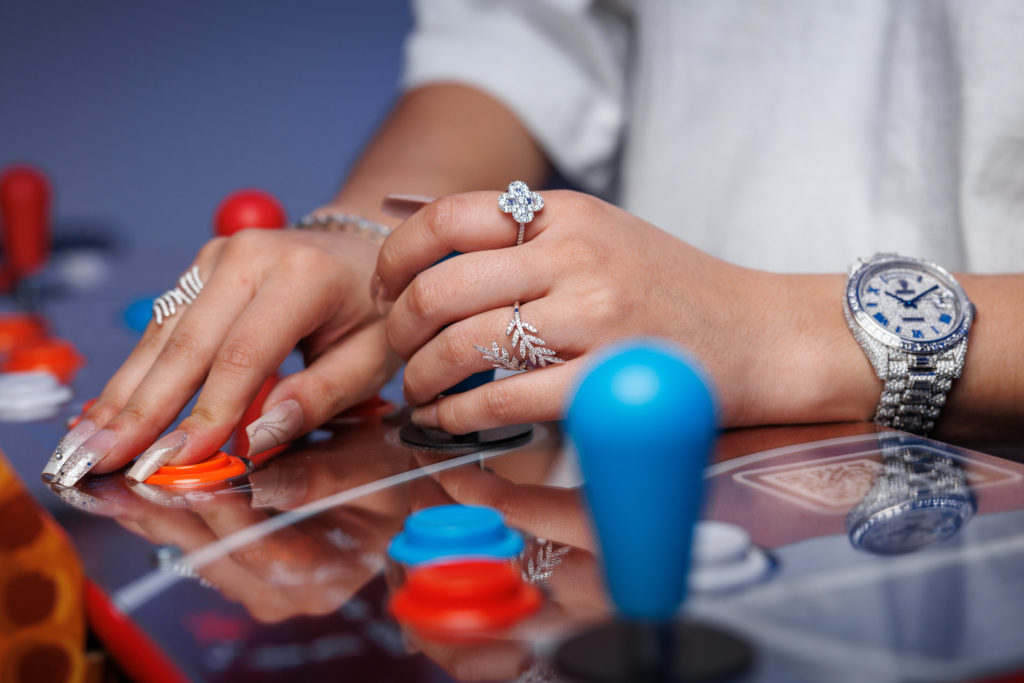 There is a lot to be said about the classics. That is because they are, well, classic. They have that style that defies trends and stands the test of time. But that isn't for everyone and just because you choose something a little different doesn't mean it doesn't have staying power. There are those simple designs that use the finest materials that, while whimsical, also have the elements of a classic piece of jewelry that can stand the test of time. The flower-shaped diamond ring we feature here is a great way to combine stylistic and classic design elements into the same piece of jewelry.
It uses diamonds to create a stylistic image of a flower. Different sizes and cuts of diamonds come together to create a simple, yet unmistakable, rendition of a flower. The use of fine diamonds in what is an otherwise fun design is a great way to add that extra bit of style and glamor to the piece. The design makes this the perfect ring for those who love nature and the great outdoors. And, since it is versatile, you can easily incorporate it into your signature style and it can easily be worn daily. 
Versatile
We don't often think about versatility when considering high-end jewelry and that makes sense. Many high-end pieces aren't particularly versatile. They look great for special occasions and formal events but would be out of place in more casual settings. Those kinds of pieces are great, but it is also nice when you have a high-end piece that is versatile and can be worn in a range of different settings. That is exactly what you get with the flower-shaped diamond ring we focus on for this piece. 
Obviously, a high-end piece of diamond jewelry is going to look good with formal or high-fashion attire. However, it will also look great with something a lot more casual as well. Whether you are wearing an evening gown or a pair of jeans and a t-shirt, this ring will look great. It can easily pair with all sorts of different looks from vintage to bold and contemporary. You can also easily pair this ring with other accessories. It looks great with different metals, different gemstones, and even different styles of jewelry. This ring can easily become part of your signature style and something that you wear daily. 
Your One-Stop Shop for Fine Jewelry Needs
Here at Diamonds By Raymond Lee, we care about quality, style, and construction above all else. This is how we ensure that every piece that finds its way into our display cases has met the strictest standards of design and quality. Additionally, we also have a passion for providing pieces that you can't find at just any jewelry store. This is why we hire only the best buyers for our acquisition department. With the skills and connections gathered over years of experience, our buyers are able to source the rarest and most unique pieces from sales all over the world.
While we are best known for our unique and broad selection of high-end jewelry, we also offer additional services. Using the latest in computer technology along with the most skilled jewelers in the area, we offer custom jewelry design services. This allows us to turn your dream into a reality. In addition to these services, we also offer a comprehensive array of repair services as well. Whether you have something simple or a really big project, we are here to help. If you need a ring resized or you want to see that old pocket watch working again, we have you covered. 
In Closing
When most of us think about high-end rings, we are thinking about wedding bands or engagement rings. These are really important pieces of jewelry, but rings can do a lot more than just symbolize our relationship status. They can easily become an integral part of our signature look and style. Rings can be worn on any finger for any purpose. We illustrate this by focusing on a flower-shaped diamond ring for the purposes of this article. This is a ring that combines high-end materials and construction with a whimsical design and style.
A flower-shaped diamond ring is a fun, yet elegant, piece of jewelry. It is perfect for the nature lover in our life and can easily pair with a whole host of other accessories as well. Since it is such a versatile piece, you can easily wear it daily and it becomes part of your signature look. We love pieces like this that defy what most people expect from an accessory. It is a fun and stylistic design, but one that still meets the most rigid standards of design. And the materials that feature in this ring are of the finest quality you can find.