Oval-Cut Diamond Halo Engagement Ring
Something like an oval-cut diamond ring with a halo is a wonderful choice for an engagement ring for many reasons. First and foremost, there is an elegance and a simple quality of materials that is easily visible. It is a classic and timeless design, which makes a big difference when it comes to something that is meant to be worn every day. We point this out because, for many, choosing an engagement ring is one of the most daunting and scary experiences. As if asking someone to marry them wasn't stressful enough! But we get why it is a little overwhelming.
The engagement ring is likely one of the most expensive pieces of jewelry you will buy in your lifetime. And, you are being asked to choose something that someone else will wear every day for the rest of their life. That is a lot to consider! We have a ton of experience, which we will share with you in hopes that it will make this process at least a little bit easier. Once we look into the considerations you will want to take into account, we will take a closer look at a specific ring and the facets that make it up. It is our hope that, by the end of this guide, this scary process can at least be made a little easier to handle. 
Our Experience Simplifies the Process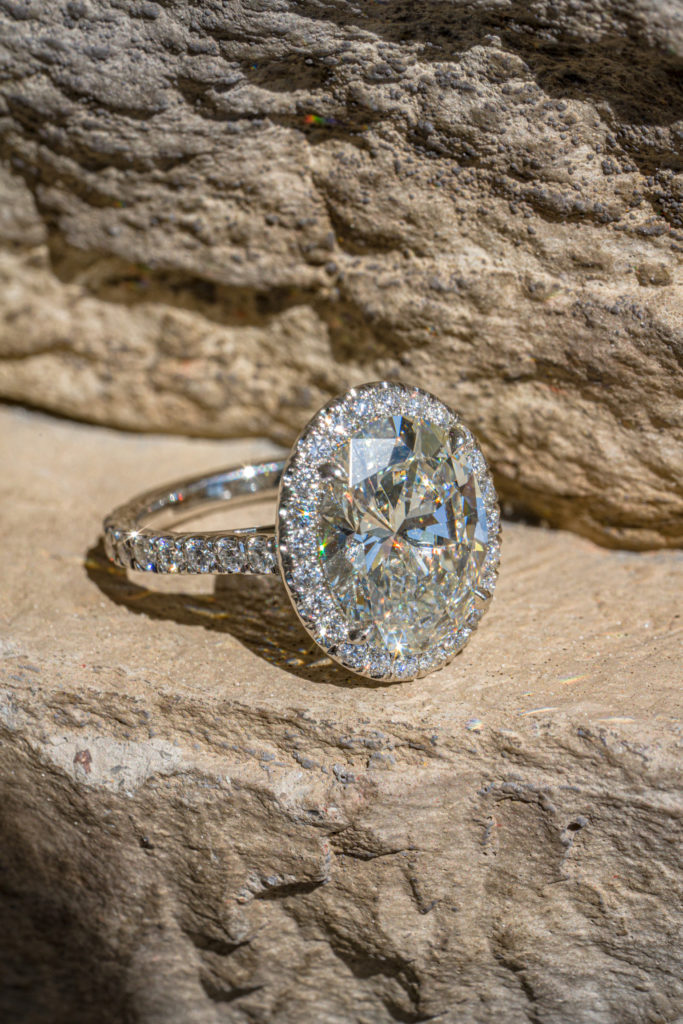 During our 30 years in the fine jewelry world, we have helped men and couples from all walks of life find the perfect ring for their bride-to-be's taste and style. We have seen how stressful the process can be and know a few things about what to expect that can help make the process a little bit easier. Ideally, choosing an engagement ring for that special someone would be an enjoyable experience, but we can hope to at least dispel some of the fear in the process. We take a look at the main considerations you will want to take into account when you choose a ring. 
For the purposes of this piece, we are going to be looking at an oval-cut diamond halo ring. We will explain why something like this ring is a great choice for women across a wide range of different styles. And, we will make a strong case for the classics because, in our experience, this is the best choice for something that you will want to wear in the long run. 
Finding the Best Engagement Ring
Whether you choose the oval-cut diamond halo we feature here or simply use this guide as a starting point for your shopping, we hope that this at least helps guide your selection process. There is a lot to think about when looking at engagement rings. One of the first things you will want to think about is her style. Are there materials that you know she is fond of? Do you know of any particular cut of gemstone or metal she likes? This is important information. You will also want to set a budget before you ever set foot in a jewelry store. This helps streamline the process and avoids the unpleasant experience of finding something you like, only to learn it is out of your budget. 
Next, you will want to take her daily lifestyle into account. If someone is really active or uses their hands a lot during the course of their working day or for their hobbies, you will want to choose a ring that isn't going to impede this in any way. She has to be able to live and work with the ring and you will want to make sure that you don't choose something that will interfere with her daily life as this will not be something she will want to wear daily. If she is active or uses her hands a lot, you may want to consider something smaller and unobtrusive. This way, she isn't stymied while wearing the ring because if she is, she isn't going to enjoy wearing the ring, which we certainly want her to do.
Why the Classics Make Sense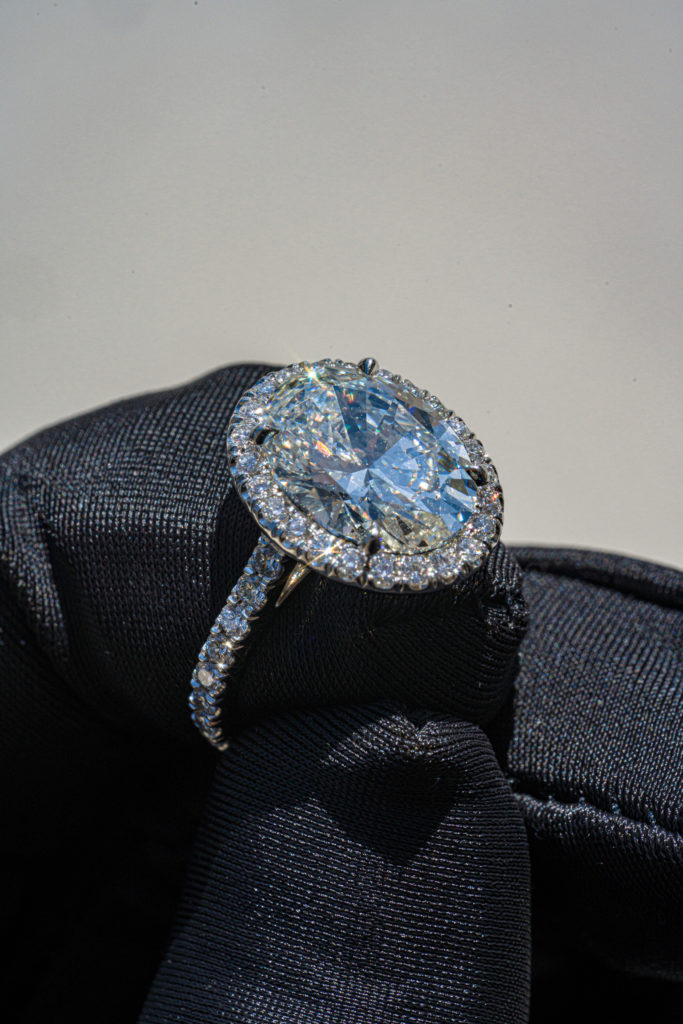 It can be super tempting – especially if you are planning to wed someone with high style – to choose something bold and trendy as an engagement ring. We would strongly recommend fighting this urge. Think about trends and fashionable styles: these are things that do not tend to stand the test of time. They may be in fashion one day, but they are out the next. But an engagement ring is one that is meant to be worn for the rest of your life. If you choose a ring that falls out of style, she is faced with the unpleasant choice of buying another expensive ring or wearing something no longer fashionable. 
This is why the classics make so much sense. These are styles that, due to their simple and clean look, are always in fashion. Think of the little black dress. Classic styles are those that look great with whatever is in fashion and are never a bad decision. A style that is classic is one that is versatile and that will be able to evolve with your bride-to-be's changing style. 
Oval-Cut Diamond Solitaire
A classic cut, as we discuss here, makes a ton of sense for a piece of jewelry that will need to be worn daily, hopefully, forever. Even the most trendy woman isn't going to want to constantly change her wedding ring because style changes. And when it comes to those classic styles, there really isn't anything that fits the proverbial bill more than a diamond solitaire. Here, we have an oval-cut diamond solitaire. As the name implies, it is a ring that features a single main stone. The great thing about this style is that it looks great with huge, eye-catching stones, as well as more modest, smaller stones. 
Many people will choose a solitaire with accent stones. These accents are meant to further enhance the look and feel of the piece while not detracting from the beauty of the main stone. The ring we look at here boasts an oval-cut diamond. This is a gemstone cut that is very similar to a round brilliant-cut diamond. The cut is meant to maximize the amount of sparkle and shine the rings give off. In the jewelry world, this sparkle is often called brilliance. The sparkle is a result of light refraction. Oval-cut diamonds have a lot of small facets cut into the face of the stone. These facets will catch and cause a play of light, which is what gives this cut that lovely glint and sparkle.
A Brief Note
Some people prefer really classic styles such as a simple solitaire ring. This would include a main stone and a plain metal band with no accents or adornments. A simple solitaire is a clean and classic look that will work great with a lot of different fashions. But we feel that the use of accent stones also adds more style and personality to a ring that it has in its more plain form.
Halo
The oval-cut diamond solitaire ring we feature here is one of those lovely styles that features accent stones. These accent stones will help accentuate the beauty of the main stone and add a bit of extra style and glamor to the piece. A popular form of accent stone is what we call a halo. This is a great way to add a bit of extra sparkle as well as that dramatic glint of the classic diamond. It does not at all take away from the main stone, which is the focal point of the ring. Rather, it adds to it.
This accent consists of a small row of stones that encircle the main stone. You will most often see the halo with round or oval-cut stones. However, you can use a halo with any cut you like. There are also what we call hidden halos. These are halos that encircle the shaft of the stone as opposed to the face of the stone. This style gives the ring more texture and a dramatic look, but one that still retains that simple and classic elegance we are looking for in an engagement ring. 
The Eternity Band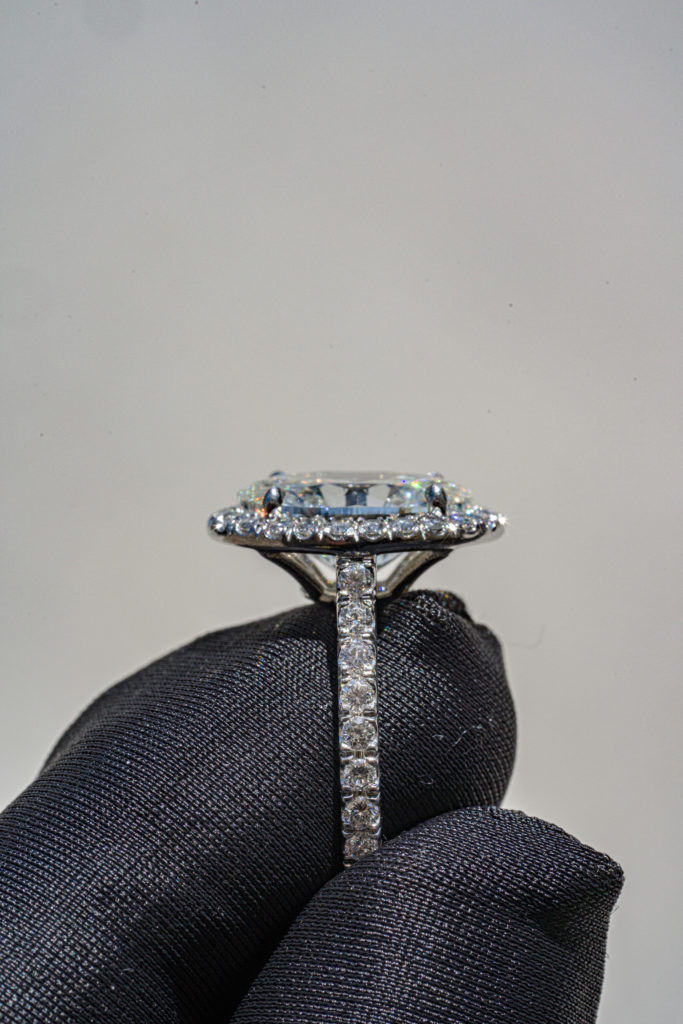 In addition to the stunning halo, the oval-cut diamond solitaire we feature here also boasts an eternity band. This adds even more elegance to the piece and infuses it with symbolism and meaning it wouldn't otherwise have. We often see the eternity band as a wedding band because of its simple and versatile style. This means it will pair well with both simple and more ornate styles. However, we will also often see the eternity band feature as part of an engagement ring and this is a style we really love. 
It is a simple style that consists of small gemstones – here we see the style using diamonds – that are set into the band of the ring. This creates a smooth band that has a ton of glint and style. This is a symbol for the joining of two lives for eternity as well, which is why a lot of people love it for use in a wedding set. What better way to symbolize your life together? There are different kinds of eternity bands as well. There are full, half, and two-thirds bands. This refers to how far around the band the gemstones run. Some people find the full eternity band chafes the inside of their fingers and thus prefer a half or two-thirds band. For others, it isn't an issue so the choice can be made by preference. 
Versatile Elegance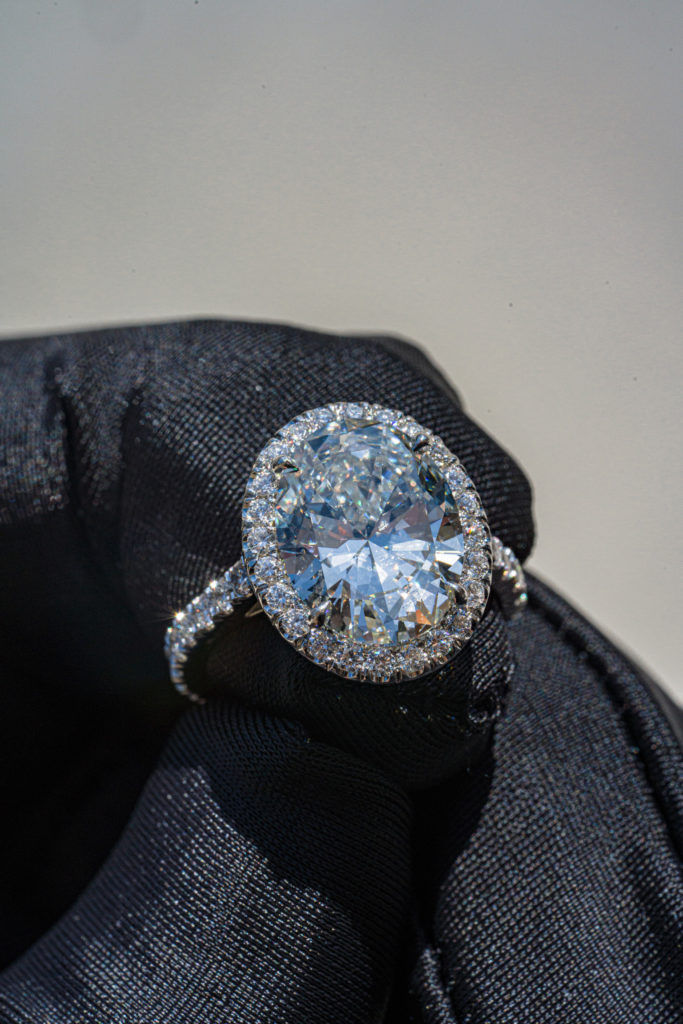 Whatever you ultimately choose, your bride-to-be is going to be wearing this ring every day for the rest of her life. So you want it to be able to be up to the proverbial task. This is part of why we feel like we need to make such a strong case for classic styles. You want something that is going to be able to evolve with her during the course of her life. Of course, she will want to look like a princess on her wedding day, but whatever you choose also has to be suitable for everyday wear as well. This means that you have to choose something that will be comfortable for her, as well as durable enough to go where she goes without worry.
The oval-cut diamond solitaire we feature here is a stunning and versatile ring that will look just as good with a pair of jeans and a t-shirt as it does with a wedding gown. It is well-made from the finest materials for peace of mind. It is something that you can easily pair with other 
accessories to create a look that is all your own and 100% unique. 
In Closing
We know that finding the perfect engagement ring can be, for some, a really scary and daunting experience. Luckily, we have a ton of experience helping men and couples from all walks of life in finding the perfect ring for their taste and style. We use this experience to create a guide that helps to, at least a little, simplify the process. First, we look at the considerations you will want to consider when shopping for a ring. Then, we make what we feel is a strong case for choosing a classic, as opposed to trendy, style. We want you to choose something that will be able to stand the test of time and that will work with her taste and lifestyle.
Once we have these issues taken care of, we look more closely at an oval-cut diamond solitaire with a halo and eternity band. This ring is a combination of three different classic styles, all in one. Pairing different classic styles gives the ring a more unique look and feel, but doesn't take away from the power of the classics. Whether you choose something like the ring we feature her or you use this as a starting point for your shopping experience, we hope that it makes the process a little less scary and maybe even enjoyable.