Patek Nautilus with Diamonds and More Diamonds!
A high-end timepiece such as a Patek Nautilus is a great accessory for men and women, regardless of their style. There is just something about a timepiece that is, well, timeless. It is one of those accessories that looks great on anybody for any reason. High-end timepieces can also do a lot more than help ensure that you remain punctual. They can complete your style or give you that professional look you are striving for. And, they can also tell others a lot about you, such as your appreciation for the finer things in life.
Patek Philippe is one of the best-known high-end watchmakers in the world. Their Nautilus line of watches comes in a huge variety of styles. Here, we look at a truly bold version of the watch. This Patek watch is completely studded with diamonds. It has diamonds on every part of the watch. There are diamonds on the face of the watch, the bezel, and even the bracelet. It is a bold timepiece that isn't for the faint of heart. This is a watch for the style icon that wants to be seen.
The Power of High-End Accessories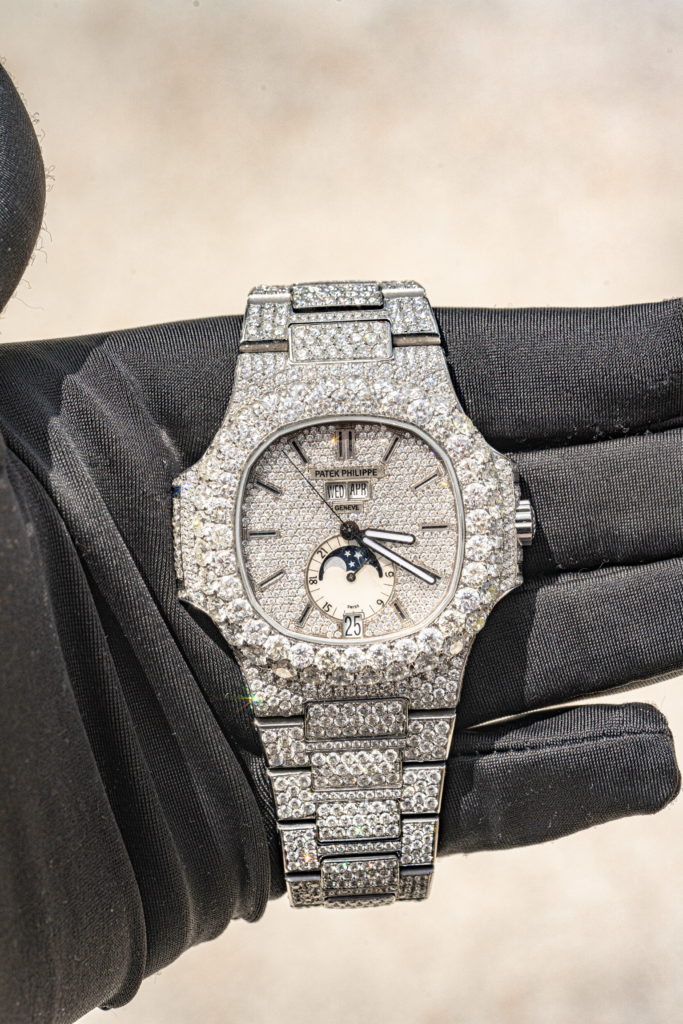 We don't often stop and think about the power that the accessories we choose have. Something like a Patek Nautilus timepiece can tell others a great deal about you. Let's stop and think about first impressions. How do you form them? Chances are, you take in someone's look – the way they dress, carry themselves, the accessories they choose, etc. What this makes clear is that this impression is something we form even without speaking to the other person. And others do the same with us. So it does make a lot of sense to put some effort into the accessories you choose. It can help you make a better first impression.
With something like an iced out Patek Nautilus wrist watch, you are making a number of statements. First and foremost, you are a style icon and you love pieces that draw attention to themselves. It also shows that you are willing to pay extra for a high-end piece that is made from high-grade materials.  And, as the watch also generally denotes, you also have an appreciation for your own time, as well as that of others. 
Your One-Stop Shop for Luxury Jewelry 
At both Diamonds By Raymond Lee, and our flagship store, Raymond Lee Jewelers, we know that our clients have an appreciation for high-end, unique pieces. People don't come to our stores to get run-of-the-mill pieces you can find at just any strip mall jewelry store. Rather, they come for the finest and largest selection of rare high-end pieces you can find in the Boca Raton area. Our emphasis is on unique pieces that are well-made and that only feature the finest materials. This is why we hire only the most experienced buyers that have the connections to source a wide range of the best pieces from sales around the world.
While we are known for having a great selection of rare high-end watches such as the Patek Nautilus, we also do more than this. We offer a comprehensive range of jewelry repair services as well. Whether you simply need to resize a ring, or you want an old watch back in working order, we have you covered. Our experienced jewelers also offer custom jewelry design services. Using the latest in computer-aided technology, we work closely with our clients to help them turn their dream pieces into reality. 
Patek Philippe Timepieces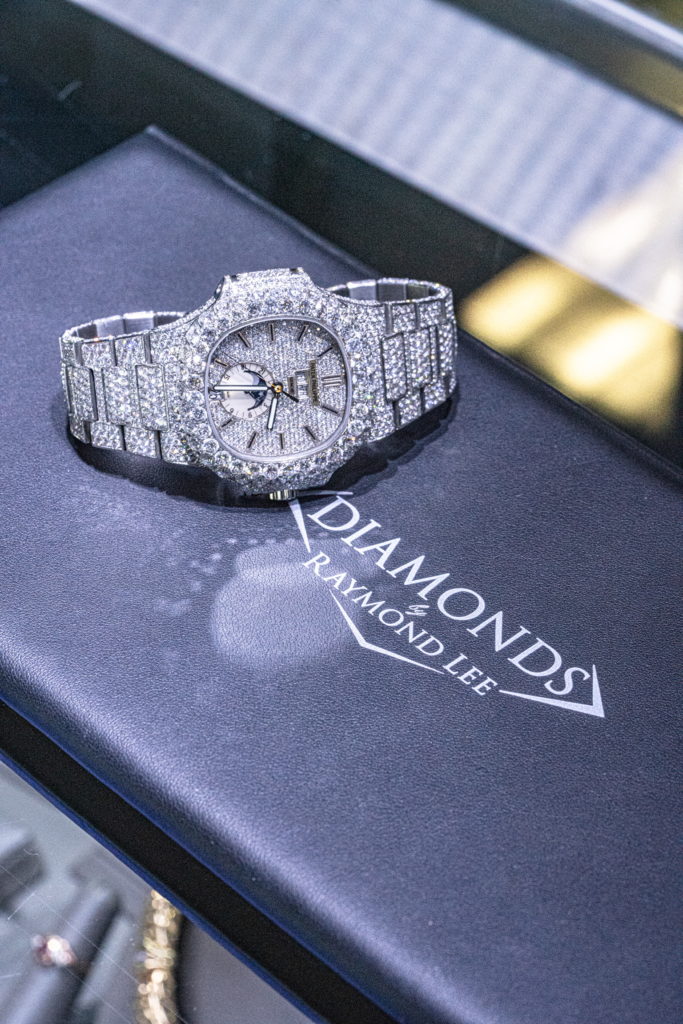 Patek Philippe is a well-known luxury watchmaker that has its headquarters in Canton of Geneva as well as Vallee de Joux. The company, named for its founders, has been in continual operation since 1839. This makes it one of the longest, continually-operating watchmakers in the world. 
Unlike many other watch brands, Patek Philippe has their own engineering and research and development department. This allows them to create many of the elements in their watches in-house. What this means is that often, what you get from Patek, is one-of-a-kind.
Many people associate this watch brand with royalty and high style. There are many royals and celebrities alike who swear by Patek timepieces. The company saw its start in making pocket watches but quickly moved into the world of wristwatches.
It still has an eye toward innovation and continues to obtain patents for some of the internal movements and mechanisms that feature in its watches. These internal components are known as some of the most cutting-edge in the world. With this in mind, it is no surprise that Patek Philippe is also a trendsetter in the world of watchmaking. 
The Nautilus Line of Watches
The Nautilus line of watches by Patek Philippe is one of their more popular lines of watches. This unique line of timepieces features design elements that are both classic and sporty. Since its introduction some forty years ago, this line of watches has seen some changes and improvements. But there are certain design elements that are consistent across all models.
For the Nautilus, these elements include the unique case of the watch. All Nautilus watches have porthole construction on their case. Additionally, all Nautilus watches have a horizontally embossed dial. While the materials and colors that feature with these watches may change with time, these two design elements will always be there.
This is a widely varied line that has options for both men and women. There are simple and classic versions of the watch. But there are also bold and eye-catching versions, such as what we feature here. With so many different options to choose from, but that all retain that classic sporty look and feel, it is no wonder that this continues to be a popular line of watches. It looks great with a wide range of styles and you can find versions that are great as statement pieces as well as those that are perfect for daily wear due to their simplicity. 
Incredible Bling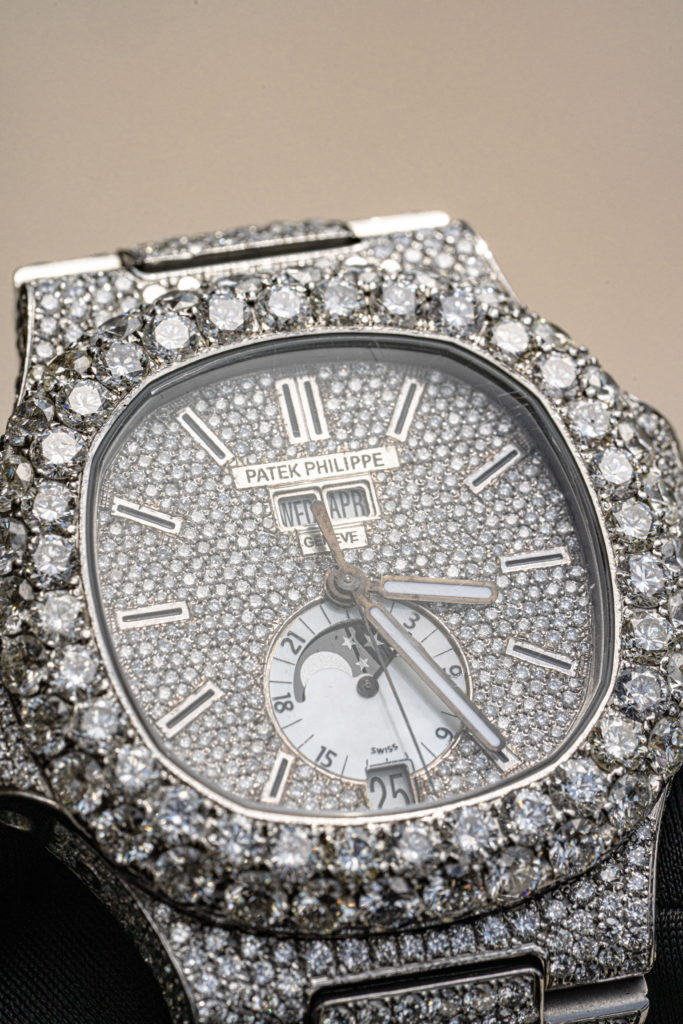 When a lot of us think about timepieces, we are thinking about plain, boring pieces like our parents might wear. However, this isn't doing this category of accessories a ton of justice. There are so many different styles of watch out there that there truly is something for everyone. While, of course, there are classic and simple watches (even high-end ones), there are also bold and fashion-forward options as well. The Patek Nautilus that we feature here is a great example of a watch that is probably not your dad's style. This is a watch that has a ton of diamonds. We are talking about a TON of diamonds.
This is not a watch for the demure dresses in our midst. It is going to sparkle and shine to the extent that is going to be impossible to ignore. And, not only does the watch feature diamonds – a lot of diamonds – but they are of the finest quality as well. Just because there are a lot of diamonds doesn't mean we don't want each and every one of them to be of the highest quality. This watch features diamonds of a couple of different cuts and shapes, which we will discuss below. 
Pave-Style and Round Brilliant-Cut Diamonds
There is so much bling on this Patek Nautilus that it is hard to know where to begin. There really isn't an inch of this timepiece that isn't studded with some sort of high-grade diamond. You will find diamonds on the face of the watch. There are diamonds on the bezel of the watch. And, there are diamonds all the way around the bracelet of the watch. It truly is a diamond bonanza! Of all these diamonds, there are two cuts that feature in the wristwatch: pave-style and round brilliant-cut diamonds.
Pave-style diamonds are tiny diamonds that are, like the stones we will discuss now, in a round brilliant cut. Their tiny size allows them to have a very different look than their larger counterparts. In French, the word pave means pavement. These are rows of tiny stones that create the look of a continuous sparkle. The larger stones are also meant to maximize sparkle but also show off the quality of the diamond. These are slightly larger stones that feature a ton of facets that allow for the play of light that creates the sparkle. The use of these two different kinds of stones gives you plenty of shine and a ton of sparkle!
The Perfect Statement Piece
There are certain pieces of jewelry that lend themselves to being statement pieces and the Patek Nautilus we feature here is a great example of this. A statement piece is, most often, a large, bold piece that you reserve for special occasions. These aren't, for example, pieces that you are likely to wear to the grocery store. You might look a little out of place wearing jeans and a T-shirt along with a diamond-studded watch. However, having pieces that we can bring out for special social events is a ton of fun and this watch is a great option for that.
These are pieces that you will bring out for a high-class social event such as a gala or a party. You can really allow yourself to shine at these kinds of events. And what better way to shine than with a high-end timepiece that is absolutely dripping with diamonds? Whether you want the watch to be the focal point of your look, or you want it to accent an even bolder outfit, the choice is yours. We know that you will love any opportunity to bust out this stunning and eye-catching piece.
Bold Elegance
All Patek Philippe watches are made to the highest standards of quality. These are handmade watches that feature the finest materials and are well-built to stand the test of time. And, they are also made to be stunning to look at. The Nautilus we feature here is a great testament to this. It is definitely a watch that is made to be viewed. A white gold base, this watch starts off with that cool silvery metal that many of us prefer to traditional gold. The cooler hue of white gold better offsets, at least in this instance) all that sparkle.
Like all Nautilus watches, this watch features the classic and elegant lines and profile that have made this such a popular line of watches. It is timeless in its elegance, but it also has a sporty edge that sets it apart from other high-end watches. It is a functional and elegant piece of jewelry that looks great in any style. Whether you want something simple and classic or something bolder like the iced-out version we feature here, either is going to have that timeless elegance that all Patek watches have. And since it is eye-catching and bold, it is the perfect option for those with trendier styles.
In Closing
Not all wristwatches are plain and boring pieces of jewelry. There are as many different types of watches as there are people who wear them, so it is easy to find the perfect option for you. One of the favorite brands of discerning consumers is Patek Philippe. This is a company that is known for making some of the greatest and most elegant timepieces on the market. The Nautilus line is one of their most popular lines and is available in a wide range of different materials and configurations. It is all these choices that help to make this model so loved.
What we feature here is a bold and eye-catching version of the Nautilus. Whereas many of us know that Nautilus is a slightly chunky watch that has a combination of classic and sporty features, there are also versions of the watch fit for a king. The version we look at here features high-grade diamonds on every aspect of the watch. The face of the watch features fine pave-style diamonds. The bezel and bracelet feature round brilliant-cut diamonds. Both of these cuts are meant to maximize the amount of sparkle the stones give off. All these stunning diamonds come together to create a stunning watch that makes for the perfect statement piece.