Rolex Datejust with Meteorite Dial
Something like a Datejust by Rolex is a great addition to any look. There aren't a lot of high-end accessories that can be worn with a wide range of looks and fashions. But this line of watches fits that proverbial bill. This is because the watch has classic lines and a clean profile. This is a timeless look that never falls out of fashion. Whether you like classic, vintage, or even trendy fashions, something like a high-end wristwatch is a great part of any look. Watches can give you that put-together look that so many of us strive for. That effortless elegance we often see might seem impossible, but pairing a Datejust with other fine accessories is a great way to get it.
In this piece, we will look at this enigmatic line of watches, as well as the watch in general. It is a great accessory for any signature look and has the extra benefit of looking great with pretty much anything. A watch like the Datejust we feature here is one of those pieces of jewelry that will look just as great with something formal as it does with more casual attire. 
How to Create a Signature Look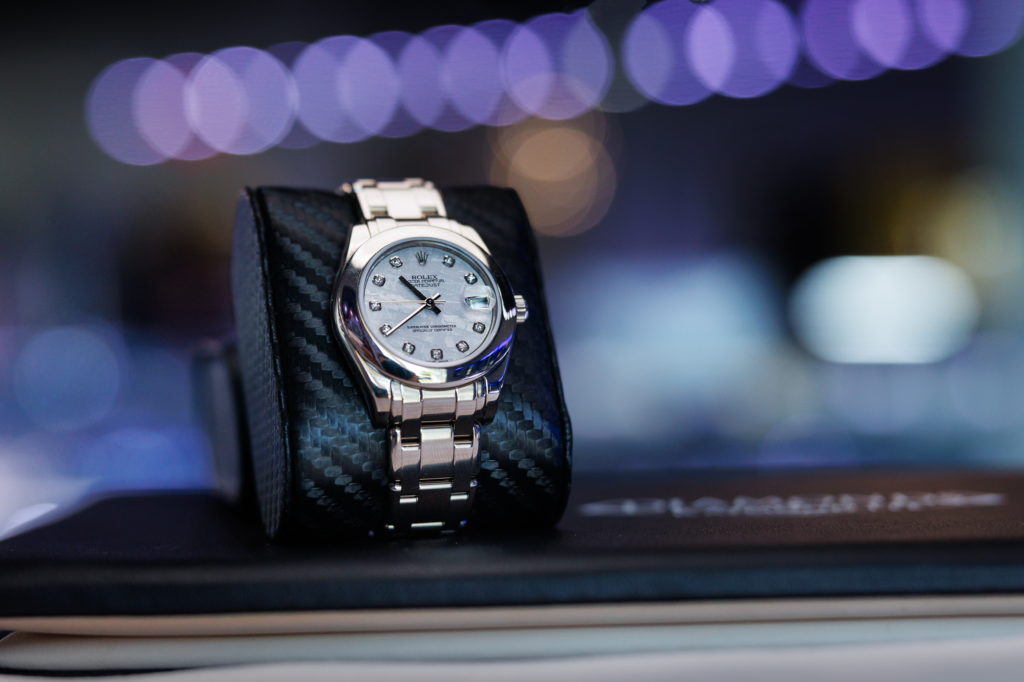 We are all unique individuals but it can be hard to figure out how to stand out from the crowd. But one of the best ways to do this is by creating a signature look. This is a style that is all our own. We can develop this style through the clothing we wear, how we do our hair, how we do our makeup, and of course, the accessories we wear. A pairing of a few accessories that you wear on a daily basis will easily become part of this signature look. This is a style that people recognize and associate with you.
The Datejust by Rolex that we feature here is a great addition to any signature look. It is going to add a bit of effortless elegance to your look and you can always remain punctual. The simple look of this watch means that you can easily pair it with other accessories, whether also simple or a bit bolder. A lot of people will pair their watches with other pieces such as rings, necklaces, bracelets, earrings, and more. You can easily blend different metals as well as different kinds of gemstones together when creating your own unique look. 
The Joy of Accessories
Accessories are a lot of fun and they are a really great way to show off our style, whether boldly or more subtly. A lot of people like that they can pair a unique accessory with a simple or classic look and let the accessory be the start of the show. Conversely, accessories can also act as accent pieces that are meant to accentuate your outfit or even accessories. There are so many different ways to pair accessories that coming up with a look that is all your own is a lot easier than you might originally think. The Datejust by Rolex we feature here is a simple, but elegant, timepiece that will look great with just about anything.
This is a watch that has a unique meteorite face that gives the piece a texture that is, well, out of this world. It also features diamond accents which give the watch a bit of sparkle, but don't make it too formal or over-the-top. And, no matter what your style, a piece of simple jewelry like a classic high-end watch is going to look great with whatever you choose to pair it with. 
The Classic Timepiece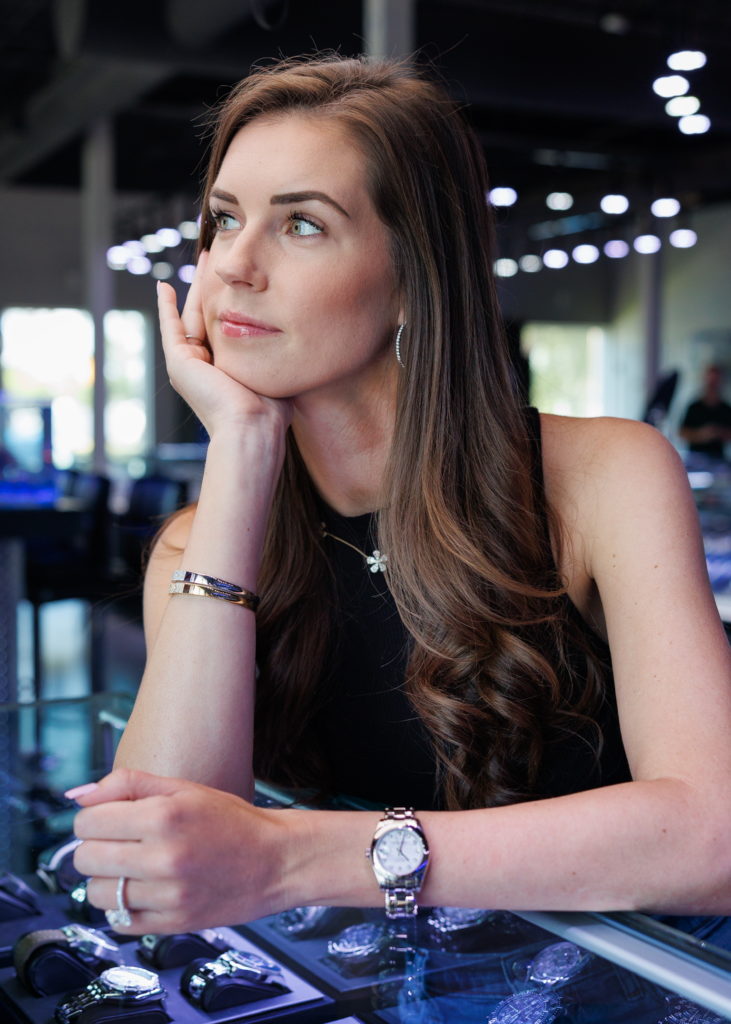 When we think about classic accessories, it is hard to imagine anything more classic than a high-end timepiece. And a Rolex timepiece adds instant recognition of style and elegance. A timepiece is one of those accessories that we don't often think about as an accessory. This is because it is one of the few accessories that combines form and function. Depending on the timepiece you choose, you will at least be able to tell the time. Other timepieces, such as the Datejust, can also add additional functionality, such as showing the date of the month. Most other fine accessories look great, but that is really the only purpose they serve.
And there is something about the timepiece that just seems to transcend trends and time. A Datejust by Rolex is one of those styles that is meant to hearken back to the classics and feature the finest materials in its construction. What you get is something special, elegant, and well-made that will look great with an array of other pieces. And since these watches are of such fine quality, you have the peace of mind that they are going to still work a great many years from now as well. 
Rolex Watches
Rolex is one of those brands that's name is synonymous with high-end luxury and elegance. There aren't many brands with the kind of name recognition Rolex has and the brand has done a lot to earn that reputation. For over a century, Rolex has been one of the finest and most cutting-edge watchmakers in the world. Each and every one of their watches are handmade with Swiss-born design, engineering, and craftsmanship. Whether you get something bold or something classic, you are getting a top-of-the-line watch that can stand the test of time.

The company has an eye toward innovation. This is why they develop many of their internal watch components in-house. The company has a number of patents on many different elements that make up its watches. From internal movements and mechanisms to metal blends and bracelet designs, there is a lot from Rolex that truly is one-of-a-kind. And the movements and mechanisms the company makes are known for being at the cutting edge and forefront of watchmaking design and technology. There are a lot of brands that will try to imitate Rolex in their design, but they aren't going to have the precision, design, and durability the genuine article has. 
The Datejust Line of Watches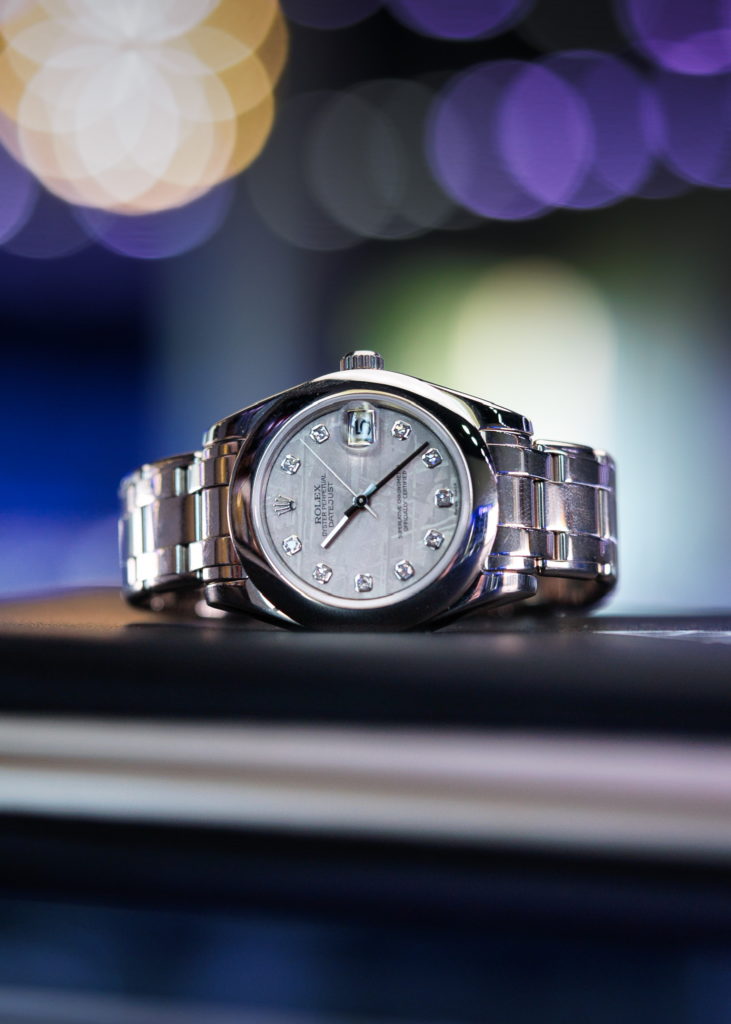 The Datejust line of watches is a classic and elegant line of watches. This line has been a fan favorite since its introduction. The combination of classic design and innovative internal components come together to create a special blending of old and new. And, another thing that people love about this line of watches is that Rolex has many different versions of the watch to choose from. These include versions made from different materials, such as different kinds of gold. There are also different types of bracelets to choose from. Additionally, there are some that feature diamond accents and even colorful dials.

However, regardless of which model you choose, there are going to be elements that are consistent across each and every version. What really set this watch apart from other high-end watches was that it was a self-winding automatic and waterproof watch that also showed the date on the face of the watch. The date can be seen at the 3 o'clock marker on the watch and is always found under that iconic cyclops lens. It doesn't matter if you have a vintage or modern version of the watch, that date under that lens will always be there. 
Meteorite Dial
There is a lot to love about a Datejust by Rolex. These are elegant and classic watches that can easily stand the test of time in terms of style as well as quality. Since these watches come in a huge variety of colors, materials, and configurations, it is easy to find a model that suits your taste and style. A lot of people love the more classic-looking versions of the watch that don't have a ton of color and let the quality of the materials speak for themselves. However, that doesn't mean that we don't also like touches that make these pieces unique.
The version of the Datejust we feature here boasts a meteorite dial. This consists of a thin slice of meteorite that is affixed to the dial of the watch. What people love about this is not only having a bit of the stars on their wrist but the truly unique texture each slice has. And, since it is a meteorite, it is a gray color that is not going to clash with other colors. 
Diamond Accents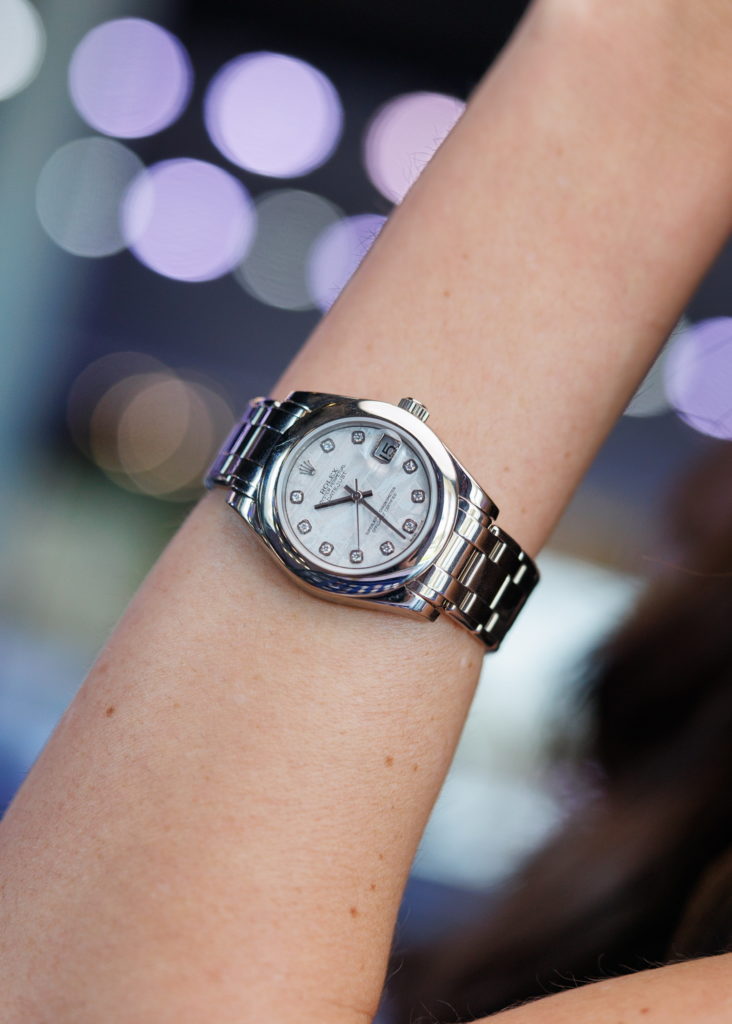 Additionally, there is a bit more to this version of the Datejust than what meets the eye. The one-of-a-kind meteorite dial is hard to beat. Since no meteorite is the same, each slice is going to have its own unique grain pattern and structure. This means that each and every watch dial is unique, almost akin to a fingerprint. The elegant style of this watch pairs really well with the slate-gray slice of meteorite and gives the watch its own unique look. But the version of the watch we feature here also offers more than that. It has diamond accents as well. 
Instead of hour markers, this version of the watch has square-cut diamonds in its place. What is great about this is that it gives the watch a bit of extra elegance, but doesn't take anything away from its versatility. Since it is a small number of diamonds, you are going to have an overwhelming amount of sparkle. There is just enough to catch the eye and please the senses. We also like the way that the diamonds offset that really unique and breathtaking slice of meteorite that sits on the face of the watch.
Perfect for Daily Wear
Though we feel like this watch is truly special, that doesn't take away from its versatility. Versatility is probably not something we think a lot about in relation to high-end jewelry, but there are a few pieces that fit this proverbial bill. The Datejust by Rolex that we feature here is a great example of this. It is made to the highest standards of quality and design. This watch features the finest metals and internal components that you can find. However, the watch features a timeless and classic look that allows it to easily pair with all sorts of fashion.
Also, the Datejust we feature here looks just as great with a pair of jeans and a t-shirt as it does with a well-fitting business suit. You can wear the watch to formal events, but it won't look out of place at the grocery store or at the park. Another great thing about this watch is that you can also pair it with other accessories. It is all of these characteristics that make this version of the Datejust a great option for daily wear. It is a perfect addition to that signature look and style we talked about earlier.
In Closing
When it comes to high-end accessories, we don't often think about something versatile that we can wear on a daily basis. There are good reasons for this as many of these kinds of pieces aren't suitable for daily wear. However, there are some that are. The Datejust by Rolex is a great example of just such an accessory. This is a high-end watch that is durable, reliable, and well-made. It features an automatic self-winding movement, which means it will continue to keep accurate time without you having to wind it by hand. This watch is an elegant accessory that looks great with a lot of different looks. It gives you that effortless elegance and style that so many of us strive for. 
There are many different versions of the Datejsut line to choose from. Here, we have a unique and special version of the watch that combines classic design features with unique materials. The face of the watch features a slice of a real meteorite. Each slice meteorite has its own unique pattern, making each watch truly one-of-a-kind. The unique texture of the dial is slate gray, so it doesn't clash with colors. Additionally, this watch also features diamond accents at the hour markers. This gives the watch a bit of sparkle but still allows it that utility and versatility that make it a great option for daily wear.