Rolex Sky-Dweller with Leather Strap
An elegant and high-end watch such as the Sky-Dweller by Rolex is a great accessory for pretty much any occasion. There are a lot of brands in the world, but none are quite as closely associated with quality and luxury as Rolex. This is because each and every timepiece is handmade to incredibly high standards of quality and design. There is also a focus on innovation in every part of the design of these watches. What this means is that even if they have a timeless and classic outside look, the internal components are going to be cutting-edge.
Watches such as the Sky-Dweller we look at here are great accessories whether you are traveling the world for business or simply want an elegant watch for your daily wardrobe. There are many iterations of this watch, from classic to more ornate. That means that, even within this specific model, it is easy to find a great option for you. 
Choosing the Right Accessories
A lot of us probably don't give a ton of thought to the accessories we wear, but perhaps we really should. We show the world who we are with how we dress and adorn ourselves, and we give off a lot of information through these things, for better or worse. And a first impression is hard to get away from. If someone has a negative first impression of someone, it takes a lot, and much time, to change that. So it makes a lot of sense that we want to put our best proverbial foot forward so we are more likely to make a good first impression.
We can do this by carefully choosing our accessories so that they give off the best possible impression. Choosing something like a luxury watch such as the Sky-Dweller by Rolex shows others that we care about the finer things in life. It also shows that you value your own time and that of other people. That is really important in any number of contexts. Whether you are in the modern world of business or you simply want to remain timely. And, in addition to all of this, these watches look great and will give our outfit the completeness that we are so often looking for. 
Making Your Own Signature Style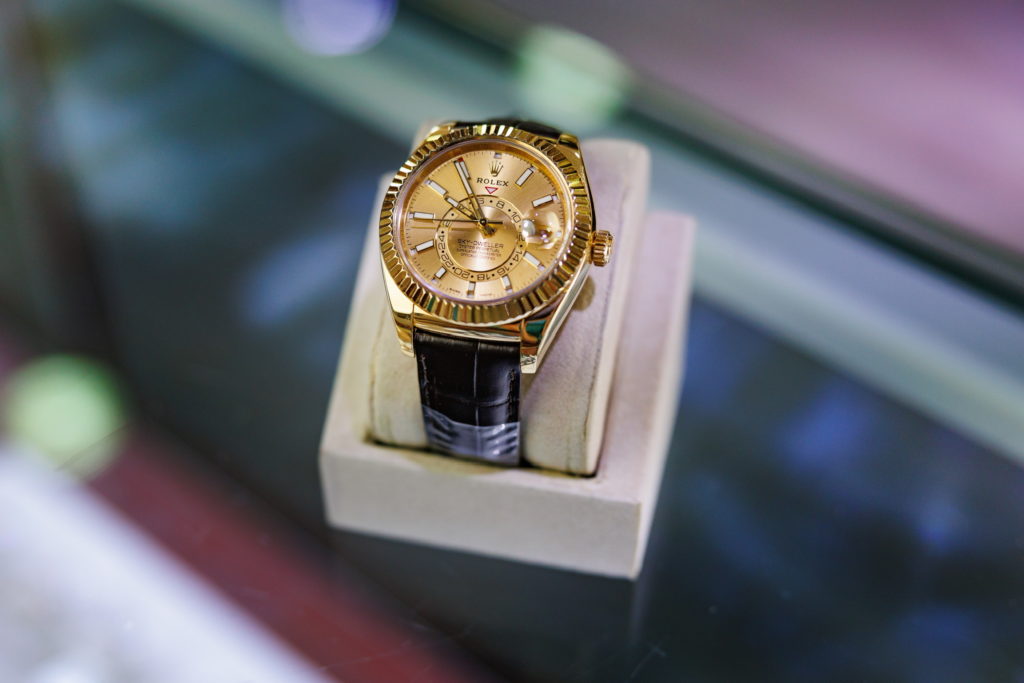 We all are unique and want to show that to the world. It can be hard to think of the best way to do this, but let's go back to how we develop a first impression. We do it without ever talking to the person. It is how they look, dress, and adorn themselves that allows us to create an internal image of the person. The same goes for other people and us. They develop their first impression based on how we look as well. Watches like the Sky-Dweller by Rolex look great with pretty much any kind of fashion, making it a really versatile watch. 
And, it pairs really well with other accessories. You can wear this watch with a number of other pieces to create a look that is all your own. Combine these accessories with the way you dress, how you do your hair, and your makeup if you wear any, and you have yourself a look that is completely unique. 
Fine Accessories and Much More
At Diamonds By Raymond Lee, we know that our clients care about quality, style, elegance, and uniqueness. People don't come to us for pieces they can find at any chain jewelry store. Rather, they come to us to find the best selection of rare high-end pieces in the Boca Raton area and beyond. We have one of the best selections of pieces you aren't going to find just anywhere. Our buyers have a ton of experience as well as connections that allow us to source the best accessories from countless sales across the world.
This edge allows us to stock a huge selection of stunning, elegant, and rare accessories. From watches like the Sky-Dweller to unique engagement rings, we have you covered. But while we have a great selection, there is no way for us to have everything. This is why we also offer custom jewelry design services.  So our talented jewelers work with the latest in computer-aided technology to help turn your dream into a reality. Nothing makes us happier than the smile on your face when we present you with your dream piece of jewelry.
Additionally, we also offer comprehensive jewelry repair services. Whether you need something simple like resizing a ring, or you have something a little more in-depth, we have you covered. 
Rolex Timepieces
Rolex is one of those brands that doesn't need a lot of introduction. For many people, the brand brings about images of the high life. In fact, many people look at a brand like Rolex as almost synonymous with high-end and luxury design. That is because these are some of the finest and most elegant watches that are on the market. Each and every watch is handmade to the highest standards of design, construction, and materials. Swiss-born craftsmanship and engineering are the backbone of the company. 
Innovation is also incredibly important. This is why, since the foundation of the company, they have sought to work with people in a wide range of more extreme environments to learn what their special and unique needs are. Their engineers would then create a timepiece that can withstand these unique elements and provide the functionality necessary for these jobs. This high technology then makes its way into each and every Rolex watch. The company has such a strong appreciation for innovation that they create many of its watch components in-house. They hold patents on these elements. This means that what you get from Rolex really is one-of-a-kind.
The Sky-Dweller
The Sky-Dweller is a unique and popular line of watches by Rolex. The inspiration for the design of this line is the world traveler. Therefore, it has a lot of functionality that is useful for those who find themselves in many different places around the globe. Interestingly, this watch line is a recent introduction, but since it was first introduced, it has quickly become a fan favorite. 
This line saw its first introduction in 2012. No matter what version of the watch you choose, all will have a Saros calendar and the Ring Command system. These two things make it possible to easily keep track of time zone changes with one movement. This is a really great feature for those who find themselves traveling to many different parts of the world, whether for business or for pleasure. 
While it is a fairly new line of watches, it has a classic and timeless style. The watch is a chunky and more masculine-looking watch than other Rolex models, but it still has those clean lines and profiles that make classic jewelry so elegant. Here, we have a more classic version of the watch, but there are tons of options to choose from. You can choose something that is classic such as what we feature here, but there are also bolder and more eye-catching versions as well. What works best for you will depend on your taste and style. 
Yellow Gold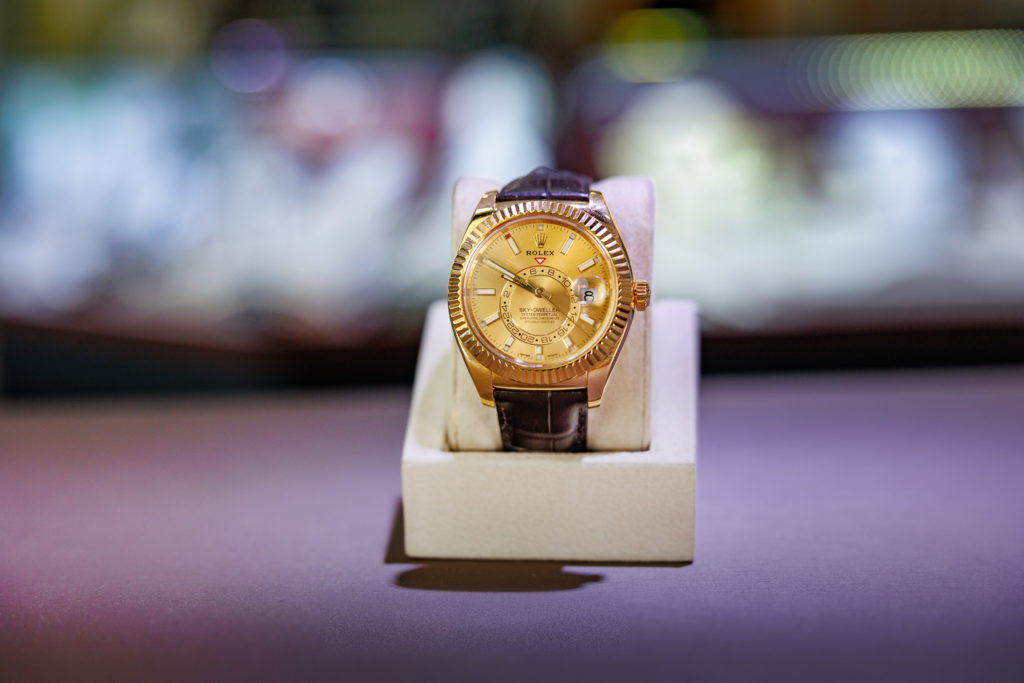 As we noted above, this version of the Sky-Dweller by Rolex is one of the more classic and traditional versions of the watch. When it saw its original introduction, the Sky-Dweller was an all-metal watch. So while this model retains some of the classic looks, it is still unique in its own right. And there isn't a material that is much more classic than traditional yellow gold. When most of us think of gold jewelry, we are thinking about the yellow gold. This buttery yellow metal has been used in human adornment since we first found flakes and chunks of this shiny metal coming out of the earth. 
Yellow gold is great because it is bright and has that unmistakable color. One thing a lot of people don't know about gold jewelry is that it is not made from pure gold. In its pure form, gold is far too soft for use in jewelry. A piece would be unable to keep its shape if it was made from pure gold. So pure gold is blended with other metals to help add strength and durability to the gold. The carat weight of gold refers to the percentage of the metal blend that is pure gold.
An Elegant Leather Strap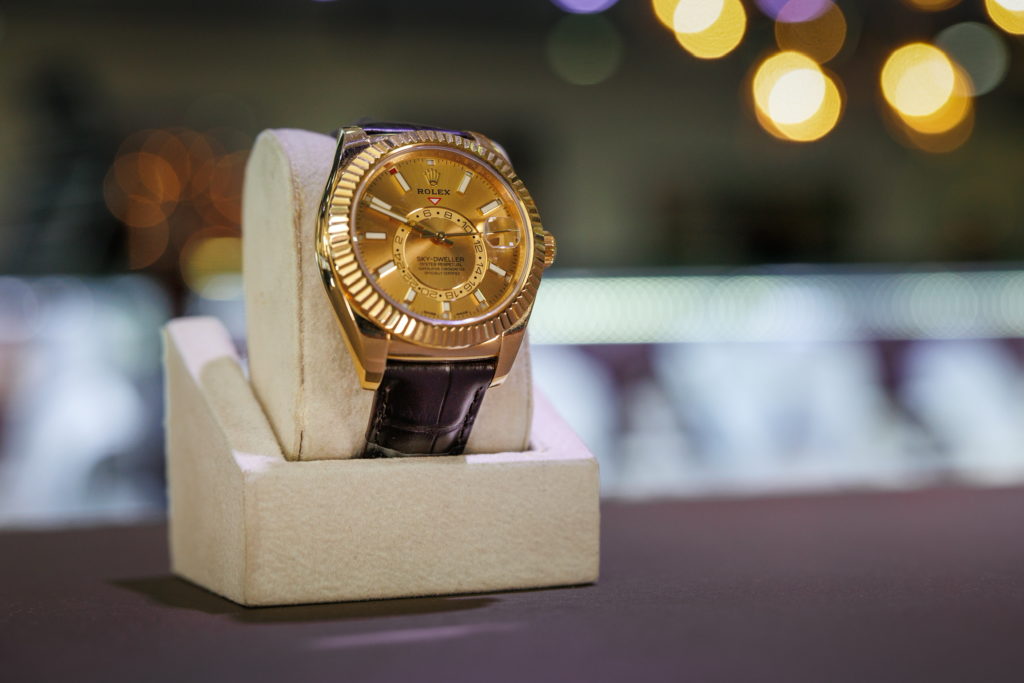 Classically, this watch would feature a metal bracelet. There are many different bracelet configurations to choose from, and many of them are exclusive to Rolex. As we note above, there is a huge emphasis on innovation at Rolex and this extends far beyond just internal movements and mechanisms. Rolex holds patents on a wide range of different kinds of watch components, ranging from internal components to metal blends and bracelet styles. They have a number of unique link patterns that make up the bulk of their bracelets, but there are a few that have something different.
Here, we have a Sky-Dweller that features a leather strap. Not only does this give the watch an even more classic look and feel, but the use of leather also adds a different texture to the watch as well. There are just a few Rolex models that will feature something outside of the metal bracelet and those would include the leather strap such as we see here or even a rubber bracelet on other models. We love the use of the leather strap here because it adds texture, and color, and gives the watch a more timeless look than it has with a metal bracelet. 
Professional and Elegant
In today's cutthroat world of business, it really is hard to guarantee your success. You can have a ton of skills and the best education, but that doesn't necessarily mean that you will have success. There is also a lot of luck and small things involved with the success that people may not think about a lot. One of these things is the impression you give to others with how you dress and adorn yourself. Remember us talking about first impressions? It especially applies in the business world. So looking professional is a big part of being taken seriously as a professional.
Wearing a high-end timepiece like a Sky-Dweller by Rolex shows others that you care about the finer things in life. It also gives you that put-together look of professionalism that is so important. People are more likely to take you seriously and treat you with respect if you look at the proverbial part. There isn't a much better way to look professional than by pairing a nice watch with a well-fitting business suit. This is, of course, not the only element of success, but overlooking it can be a huge mistake. 
In Closing
A high-end timepiece is a great way to give yourself that put-together look of professionalism that so many of us are looking to achieve. Whether you are in the cutthroat world of modern business or you simply like having a put-together look, a watch is a really great accessory. A high-end watch is an even better choice as they have a quality and elegance you can see. Rolex is one of the best-known high-end watchmakers in the world. Each and every one of their watches are handmade to the highest standards. That is why so many people swear by these watches. 
They are as cutting-edge inside as they are elegant on the outside. The Sky-Dweller that we feature here is a great watch for a world traveler. It allows you to seamlessly move through different time zones without losing track of the current time. Whether you are traveling for business or pleasure, we know you will appreciate this highly functional watch. The model we look at here features a yellow gold watch face with a classic and timeless look. Additionally, it also boasts a leather strap instead of a classic metal bracelet. This gives the watch more texture than it might otherwise have and gives you something a little different from the norm.