Square Choker Necklace Circle Cluster Link Chain
Standing out when you are always surrounded by well-dressed individuals is hard. We understand why it can be a frustrating experience. But the solution is never to avoid well-dressed people. If anything, surrounding yourself with classy people is a positive addition to you. So, don't even think about avoiding parties or staying clear off fashion enthusiasts. Instead, you should focus on doing better with your clothing and accessories. Start with a square choker necklace circle cluster link chin, and watch how things change.
The first time you touch up your dress with the square choker necklace circle will be divine. You are probably going to feel strange because it is something new to you. But if you learn to embrace it, you would soon start to notice its positive influence.
A Brief History of Square Choker Necklaces and Their Resurgence in Popularity
There are a lot of interesting facts about choker necklaces. And of course, history makes one of the most intriguing things for this special chain.
First, it has been around for centuries. Appearing first in the 1700s.The first choker necklace came around with the French Revolution in 1798. And like other special luxury pieces, it has made its mark in each century.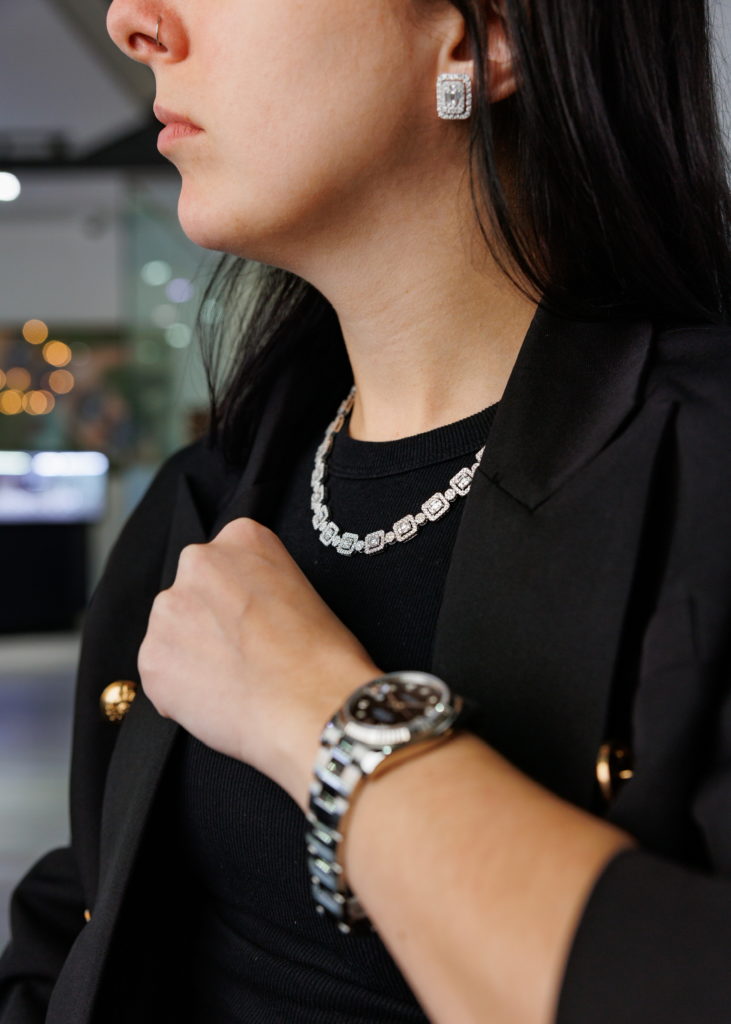 In the 1800s, 1860 to be precise, Manet's Painting of Olympia displayed an artistic piece. It was a prostitute wearing a choker necklace around her neck. Of course, this led to a resurgence in the love for choker necklaces. It was quite a common piece at the time.
Another person that made the choker necklace popular in their time is Queen Victoria. We also had Alexandra; the Princess of Wales do the same thing at the same time as Victoria. The Queen wore the choker necklace during her reign, and Alexandra wore hers as a cover for her scar. The repel effect of these powerful women wearing the choker chain in the 1900s lasted a long time. About 50 years after their reign, many people were still crazy about the Choker necklace.
While the reign dwindled for a short while, it soon came back in the 1940s in the form of a dog collar. The choker necklace had undergone improvements in the hands of its designers. People could now choose to wear diamonds, ribbons, velvet, or pearl choker necklaces.
Being able to choose different styles was another upside to the necklace. Soon, celebrities in the 1990s caught up with the trend and were also wearing necklace.
From 2015 to date, choker necklaces have been in the limelight. So much so that if you are a luxury piece collector, you probably have one or a few. Today, we have choker necklaces made of heavy chains, stripes, brass, and jewels.
Exploring the Significance of Square Choker Necklace in Fashion
Jewelry has been a significant part of fashion for centuries. We have various types of jewelry to accessorize outfits and make bold statements. Among these, the square choker crystal link chain stands out as unique.
The Square Choker Crystal link chain can combine with almost any outfit. These types of jewelry are a great choice for those who want to add a touch of sophistication to their outfits. They are a perfect accessory for any occasion. And here are some of the significance of the necklace
They come in different shapes
A square choker necklace is probably one of the luxury pieces with a distinct look. This means that no matter what, they are quite easy to spot in a crowd. However, their uniqueness doesn't interfere with their different forms.
They can come in a variety of shapes, sizes, and colors that can complement any outfit. With a range of colors, shapes, and sizes, they add a unique touch of elegance to any outfit.
In the fashion world, people are quickly turned on by unisex pieces because of their duality. It is understandable because this means that anyone can wear the piece, and it will look great! A choker necklace cluster link chain has a unisex feature on the lock.
These types of jewelry are not only for women, and they are certainly not just for men. They are available in different lengths and thicknesses. So, this allows for personalization to suit different preferences and styles. This also makes it easy for any gender to pick it up, and style it to their taste.
Affordability is always something to consider when buying any luxury piece. It is essential because most beautiful pieces are not things that the average man can afford. Happy to inform you that the square choker necklace is always within the financial range.
It is pretty much an affordable piece if you earn a living wage. So, you have nothing to worry about if you have been considering buying it.
Choker necklace works in many ways
When you go for the square choker necklace cluster link chain, you have no worries. Apart from the fact that it is affordable, you also can style it however you want. Do you want it layered? Well, you can have it layered. And sometimes, you might just want your square choke necklace to be alone. This is good too. Living your square choker necklace alone is a good way to achieve a bolder look. This versatility makes it a great choice for those who want to create different looks.
Features and Elements of the Square Choker Necklace
The Square Choker Necklace Circle Cluster Crystal Link Chain is a stunning piece. It has several features that make it stand out from other necklaces on the market.
Circle cluster crystal design
One of the most notable features of the Square Choker Necklace is the circle cluster crystal. This design element consists of several small crystals arranged in a circular pattern. This special arrangement gives the necklace a unique and eye-catching appearance.
The necklace's chain has small metal links that join together. These links allow the necklace to bend and flex to fit the wearer's neck. This also makes the necklace comfortable to wear and ensures that it stays in place.
The necklace fits snugly around the neck, giving it a trendy and modern look. It typically measures between 14 and 16 inches in length.
Variety of colors and finishes
The Square Choker Necklace is available in different colors and finishes. Some of the colors include gold, silver, rose gold, and black. This allows you to choose a necklace that matches your style.
The necklace is lightweight, which means it doesn't weigh down your neck or feel heavy. This makes it perfect for daily wear or special occasions.
The Square Choker Necklace contains high-quality materials. The metal links and crystals are strong and sturdy, ensuring that the necklace won't break.
Styling Tips for Wearing Square Choker Necklace
When it comes to accessorizing, less is often more. This necklace is a statement piece, so you don't want to overdo it with other jewelry. Instead, pair it with some simple stud earrings or small hoops to keep the focus on the necklace. Here are some special ways to style your square choker necklace if you ever get one:
This necklace is a statement piece, so it's best to keep the rest of your outfit simple and understated. Opt for solid colors or subtle patterns to avoid overwhelming the necklace.
Pay attention to the neckline
The neckline of your outfit can make a big difference in how the necklace looks. Choose a high neckline or a neckline that is more open in the front to create balance. This will also help to highlight the necklace. So, go for it.
It is no news that sometimes, picking a company for your luxury piece is the best way to wear it. Although, it often depends on what you are wearing or where you are going. Nevertheless, layering the square choker necklace with other pieces can be great too. This will create a more interesting look without taking away from the necklace.
The Square Choker Necklace Circle Cluster Crystal Link Chain is versatile. This means that can work for a variety of occasions. Nevertheless, it's important to choose the right outfit to match the occasion. For a fancy event, opt for a little black dress and heels. For a more casual look, try it with a denim jacket and jeans. And when the occasion is not on the casual or fancy spectrum, going with your intuition might be helpful.
Color will always be a priority when choosing a luxury piece. it doesn't matter if it is a band, necklace, or ring, considering the color comes naturally. Square choker necklace has clear crystals and silver-toned metal. So, it combines well with a variety of colors. However, it looks especially stunning with black, white, or pastel colors. Knowing the perfect color to pair your necklace with is a great advantage. This way, you never feel like you are wearing it wrong.
The necklace is a choker style, which means it sits high on the neck. To balance out the proportions of your outfit, pair it with a top or dress. And, you might want to ensure that the dress has a looser fit or a longer hemline.
While it can be tempting to add more jewelry and accessories to your look, it's best to keep it simple. Stick to one or two other pieces of jewelry, such as stud earrings or a bracelet.
The Symbolism of The Square Choker Necklace to A Loved One
Before getting a Square Choker necklace, you should make your findings. Now, there are always many things to know about luxury pieces like this. And, of course, there is a tendency that one focuses on the importance and features. Other people may even want to check out pricing and availability. These things are great if you mean business. But you shouldn't also forget to check out the meaning and symbolism of this luxury piece.
A good knowledge of what it symbolizes is going to help you wear it to the perfect place. It can also be a handful of information for when you want to give it to a loved one. So, let's get to it! Here are some of the symbolism of the Square choker necklace:
The Square Choker Necklace brings out grace and beauty. By giving it to your loved one, you may be expressing your admiration for their charm, and elegance.
The circular shape of the cluster crystals in the necklace can represent unity. You may be expressing your desire to strengthen your relationship when you give it out.
Celebration of a milestone or achievement
The Square Choker Necklace can mark a special occasion or milestone in your loved one's life. It can be a symbol of their hard work, dedication, and success, and a way to acknowledge them.
Bottom Line
After considering the features of the Square Choker Necklace, it is clear that this is special. Not only does it add a touch of glamour to any outfit. Its versatility also makes it suitable for both casual and formal occasions. The combination of the square choker and circle cluster design makes it unique.
In addition to beauty, the durability, and high-quality materials is also attractive. The adjustable link chain means that you can customize it to fit any neck size.
If you want to enhance your style, you are in the right place. Consider investing in the Square Choker Necklace. Don't hesitate, make the move and purchase this stunning piece of jewelry today!