Square-Cut Diamond Ring with Hidden Halo
Asking someone to marry you and finding a ring as perfect as a square-cut diamond ring with a hidden halo, isn't as easy as it might sound. First and foremost, asking someone to marry you is one of the biggest decisions you will make in your life. And not only are you asking someone to spend the rest of their life with you, but you are also tasked with picking out a piece of jewelry that they will wear for the rest of their life. That is a big deal and not a little intimidating. However, thankfully, we have a ton of experience in helping couples from all walks of life choose the right engagement ring for their taste and style.
We have taken this experience and used it to create this guide. Here, we hope to help dispel some of the confusion and scary parts of the process. We start by looking at the things you should consider before you even start shopping. Next, we make a case for classic styles that are of the highest quality. Finally, we will take a closer look at a square-cut diamond ring with a hidden halo.
How to Make That Difficult Choice
It isn't easy to choose a ring for someone else that they will be happy with for the rest of their lives. But when we ask someone to marry us, this is exactly what we must do. Though this is pretty scary, it doesn't have to leave you with the cold sweats. The first thing you will need to do is think about her style. Are there materials or cuts of gemstones that you already know that she likes? Next, you will want to set your budget before you look at a single ring. The last thing you want is to find the perfect ring, only to see that it is out of your price range.
Then, you will need to really do a bit of thinking. What is her lifestyle like? Does she use her hands a lot in her daily work or hobbies? Is she a particularly active person? If so, a ring such as the square-cut diamond with a hidden halo may be too large and get in the way of her activity. 
Classics Stand the Test of Time
We understand that, when choosing an engagement ring, it can be tempting to choose something classy and stylish. This is especially the case if the person you are buying for is a trendsetter. But even if this is the case, we think it is wise to avoid choosing a trendy piece for an engagement ring. Just think about it: trends come and go, sometimes really quickly. But our engagement ring is something that we are going to be wearing every day for the rest of our lives. So as soon as that trend goes out of fashion, your bride-to-be will be stuck with a dated ring she may no longer like.
This is why we think that classic designs make the most sense. By their very nature, the classics are, well, classic. These are simple designs and styles that stand the test of time. No matter what the current trend is, these are styles that will still look great. Just think about the little black dress. The square-cut diamond ring with a hidden halo we feature here is a great example of a classic and timeless style that will always look great. 
Stunning Quality
One of the things that are also incredibly important when it comes to an engagement ring is the quality of the materials that feature in the ring. Of course, from an aesthetic point, quality is important. Subpar gemstones, especially large diamonds such as we see here with the square-cut diamond ring with a hidden halo we feature here, will be easy to spot. The last thing you want is a huge stone with a lot of flaws and imperfections drawing attention from others. And the cut of the stone that we see here is one that will show any flaw or imperfection the stone may have. That is why it makes sense to prioritize quality over size. 
Additionally, she has to be able to wear the ring each and every day without fear that it is going to sustain damage during the course of her day. A ring that is well-made from high-quality gemstones and metals will help ensure that the ring you choose can withstand the rigors of her daily life. And, as we note above, you can see the quality in the materials that feature in the ring that is the focal point of this piece. Both the diamonds and the gold are of the highest possible quality. 
A Beautiful Square-Cut Diamond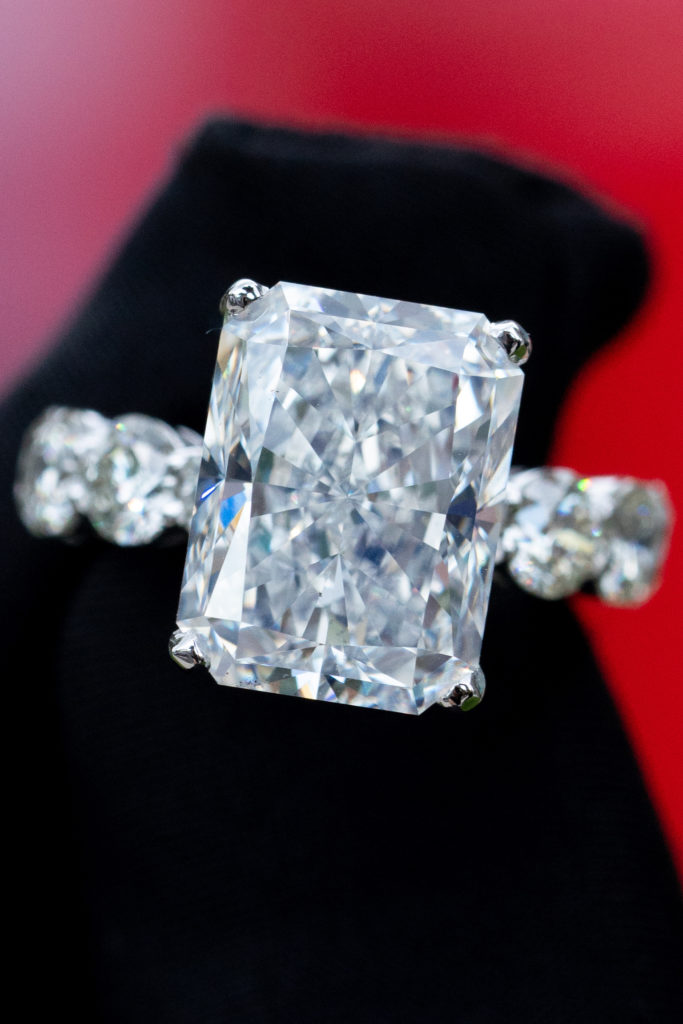 The engagement ring that we feature here is a stunning combination of three classic and timeless styles. First and foremost, it features the classic solitaire style. This consists of a single stone, in this case, a large square-cut stone, that is the focal point of the piece. Traditionally, you will see solitaire rings without any accents, meaning it is just a single stone and a band. However, that doesn't have to be the case. There are also versions of the solitaire ring, such as what we feature here, that have other accents.
The solitaire we feature here boasts a large square-cut diamond. This is a huge stone that will naturally capture the attention of anyone who sees it. This stunning cut has the ability to elongate and slim the fingers. The cut is meant to maximize the amount of fire that the diamond gives off. Fire refers to a rainbow-like array of hues that emit from the center of certain gemstone cuts when in the sunlight. You can see the depth and quality of the stone as well. With square-cut stones, you will want to prioritize the quality of the stone over the size. Any imperfections within the stone are readily visible in this cut.
The Hidden Halo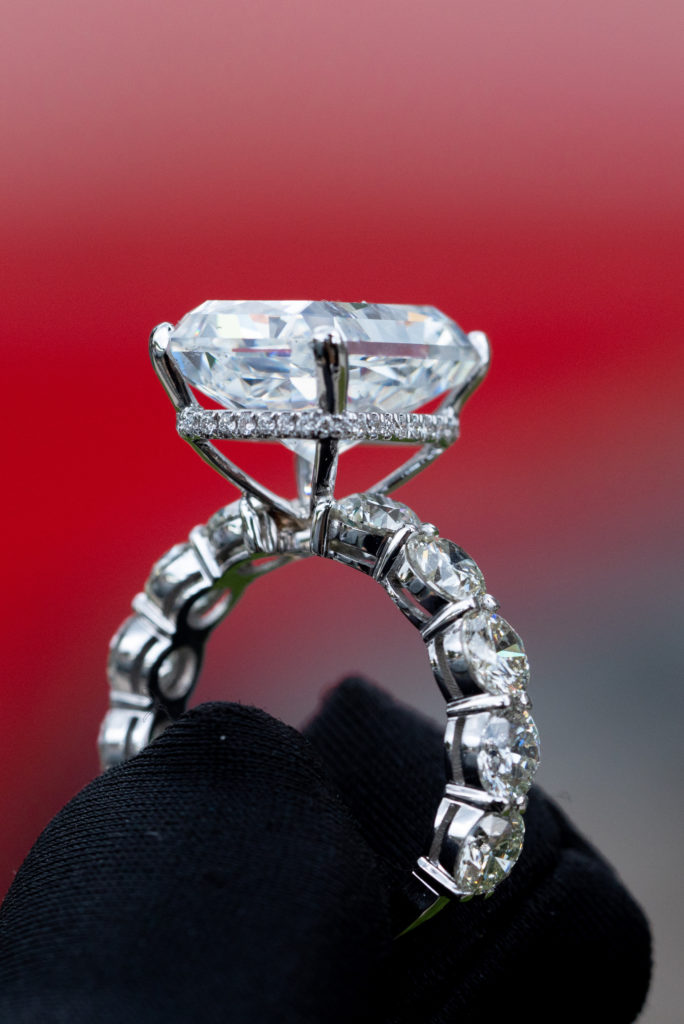 A halo is another classic design that looks great when it pairs with something like a square-cut solitaire-style ring. Traditionally, a halo is most often seen with round or oval-cut stones. However, you can also see halos around a square or rectangular-cut stones as well. Put simply, a halo is a continuous row of small diamonds that encircle the perimeter of the face of a gemstone. These smaller stones act as accent stones and offset the large focal piece stone really well. It gives a ring some extra sparkle as well as a more unique look.
Here, we see a really unique style of halo, which we call a hidden halo. Most halos are seen around the face of the stone, so it appears at the top of the ring when looking down upon it. There are also hidden halos. These are halos that extend around the base of the stone, near where it meets the metal setting. This gives the ring texture as well as that extra sparkle that people love so much. You can see this style of halo most easily by viewing the ring in a side-on profile view.
Large Eternity-Style Band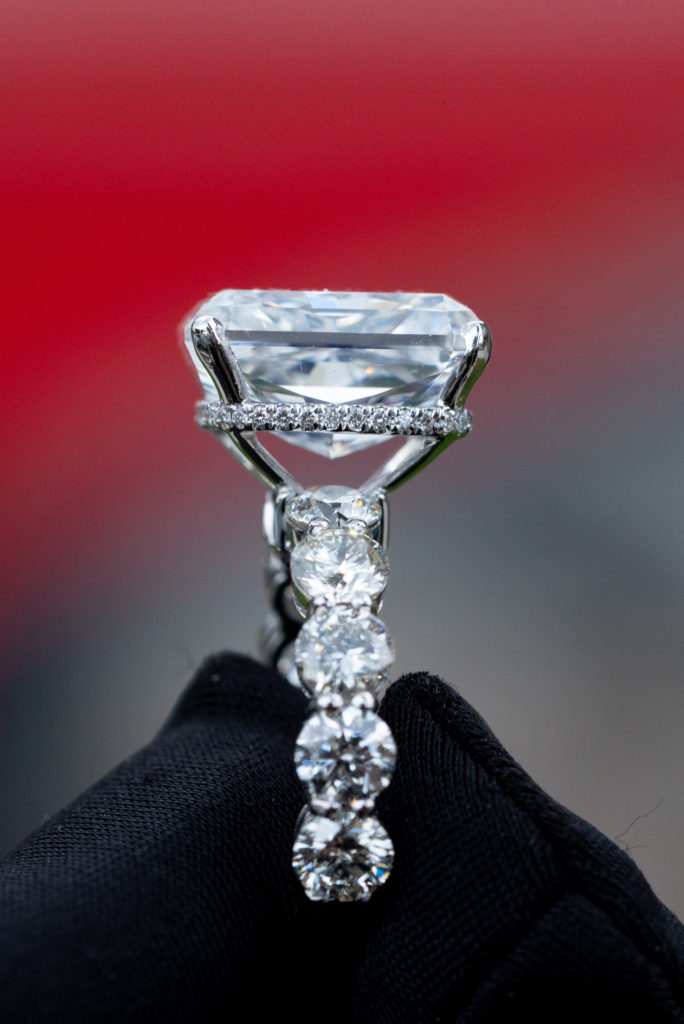 An eternity band is another popular style and while what we see here isn't a traditional eternity band, it is in the same style and vein. To put it simply, an eternity band is a band that features an inset row of stones in the metal of the band. Most often, these stones will be held in place with precious metal prongs. These stones tend to be pretty small and may extend around part or all of the band of the ring. Here, we see a continuous row of stones, but these are much larger than what we normally see with halo rings. Rather than a straight band, the metal of the band undulates with the flow of the stones, creating a wavy pattern.
The stones in this eternity-style band extend the entirety of the band of the ring. Each gemstone is inset into the band and held in place with white gold prongs. Even though it is much larger and has a slightly different band style than a traditional eternity band, it has a lot of the same visual characteristics. In fact, chances are, most people won't even know that technically, this isn't a true eternity band, but rather in a similar style. 
Well-Made and Versatile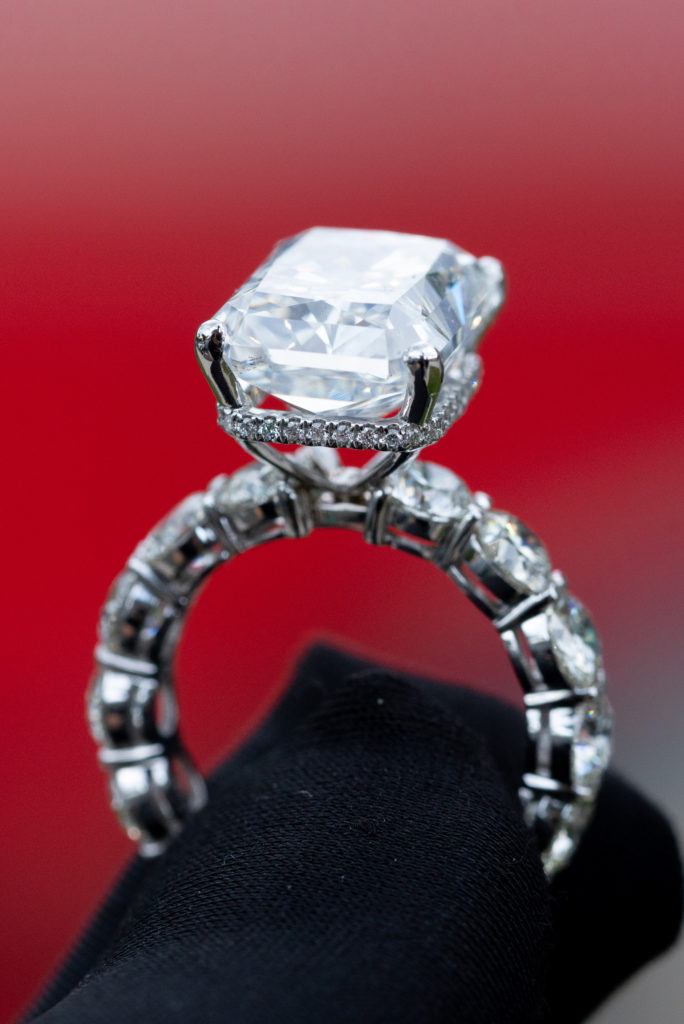 Like anything we feature in our display cases, the square-cut diamond ring with a hidden halo and eternity-style band is made from only the finest materials available. We discuss above the importance of choosing an engagement ring that is made from high-quality diamonds and metals. This is a ring that will be worn every day, so it needs to be able to withstand the rigors of her daily life. But this goes for far more than just the materials that feature in the ring. The construction of the ring must also be of the highest quality.
She is going to be wearing this ring each and every day, during the course of her daily chores and duties. Therefore, she needs something that is going to be strong, tough, and durable enough to handle these rigors. The ring we feature here is a great example of high-end, solid construction. Not only is it beautiful to look at, but it is also a joy to wear. It features only the finest diamonds and white gold and is constructed to the highest standards of quality. And since it is classic in its design, it is going to look great with a wide range of different fashions. 
The Best Place in Florida for High-End Jewelry and Related Needs
At Diamonds By Raymond Lee, we know that you have pretty high standards when it comes to the engagement ring you will ultimately select. This is why we stock only the rarest and most unique pieces that meet our stringent requirements for standards of quality. Our buyers have a ton of experience as well as connections which allow us to source the finest accessories from sales around the world. This gives you the peace of mind that anything you find in our display cases is going to be incredibly well-made from the finest materials, whether we are talking about an engagement ring or a high-end luxury watch.
Additionally, we also offer other services for your fine jewelry needs. If you have something specific in mind, we can turn your dream into a reality. Using the latest in computer-aided design, our experienced jewelers work closely with our clients to ensure that the finished product is exactly as they wish. We also offer a comprehensive array of jewelry repair services as well. Whether you have an old watch you would like to see in working order, or you have a ring that you want us to resize, we have you covered. 
In Closing
We know that choosing the perfect engagement ring might not be as simple as it originally seems. You are asked to choose a piece of jewelry that someone will be happy with for the rest of their life. That is a lot to ask of a person. Luckily, our years of experience can help simplify the process by at least a little bit. Here, we look at some of the things you will want to take into consideration before you even begin shopping for a ring. Then, we make a solid case as to why sticking to the classics for this type of jewelry makes the most sense.
Then, we look at a square-cut diamond ring with a hidden halo and an eternity-style band. This ring actually features three classic styles in one ring, which allows you the benefits of classic design, while still having something that is unique and not like every other ring on the market. We look at the components that make up this ring. Finally, we discuss the importance of quality materials and design. Since this is a ring that will be worn every day, it is going to need to be able to withstand the rigors of her daily life without breakage.