Why Rolex Lady Datejust Pearlmaster is special
A good date means different things to women. Some women are okay with a date where they do not have to over-stretch themselves. To adventurous women, a date filled with fun things to do, with fun people is literal perfection. To fashion enthusiasts, a great date is a day when they have worn the best outfit and the fitting accessory.
If wishes were horses, beggars would ride. In most cases, knowing an ideal watch does not mean you get to have it. So, it is never enough to have a dream. What are you doing to get the type of date that you truly desire? As a fashion enthusiast, there are a lot of things to pick from and combinations to make. But, first, you must ensure that you are wearing a suitable outfit for the date. If it is a fun date, there is no other accessory that fits better than the Rolex Lady-Datejust Pearlmaster.
This is not to say that the Rolex Lady-Datejust Pearlmaster isn't perfect for all types of dates. The combination of this brand of Rolex watch makes it appropriate for all outings. It doesn't matter if you are going to a park, or restaurant date, you would be looking better with it around your wrist.
What Makes the Rolex Lady Datejust Pearlmaster A Top Choice?
There is a chance that you hear Rolex Lady-Datejust a lot if you decide to ask ladies about the watch they love. Most times, the love for the Rolex lady-Datejust stems from the appeal of the features, not the branding. Apart from the significance of the Rolex's name, here are some reasons to call this watch a top choice: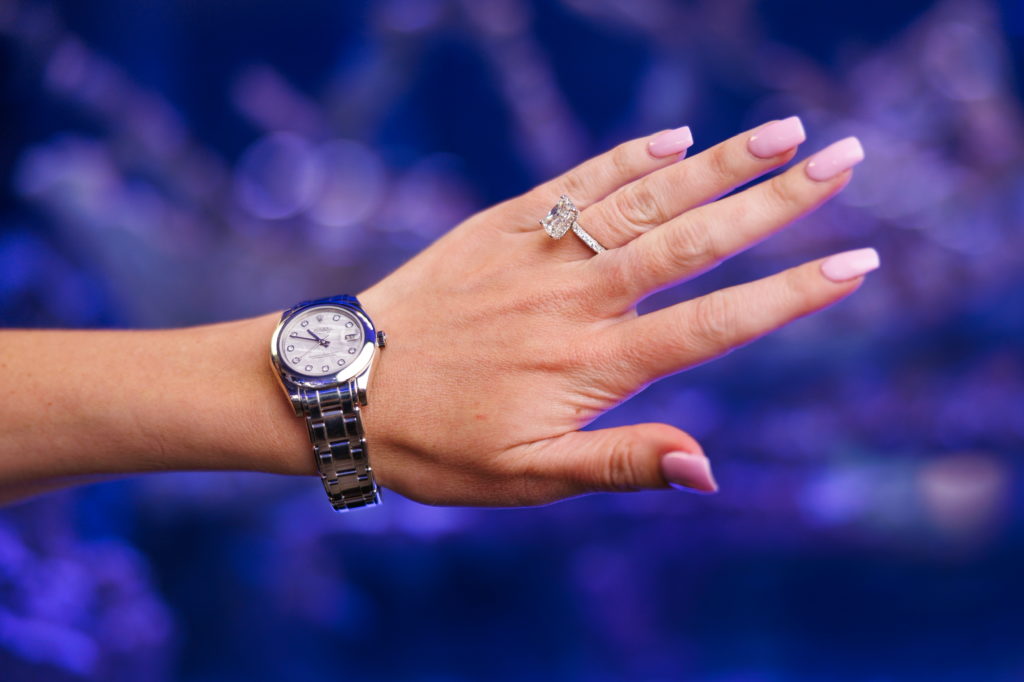 For a very popular watch, there is nothing generic or safe about the design. An original Rolex Lady- Datejust Pearlmaster has a luxurious design. The designers of the watch are some of the best. This is the only explanation for the ethereal design that we can talk about today. It features a bezel set with diamonds and other precious stones. Of course, this gives it a touch of glamour that appeals to those who appreciate fine jewelry.
What is a watch if it is not doing the primary work of a watch? While wristwatches have now become fashion pieces, they will always be timepieces. A timepiece should tell what the time is. The Rolex Lady-Datejust does that, and does it accurately.
This is to say that you can expect time accuracy from your Lady-Date just as much as you expect elegance. It has a COSC-certified movement that ensures accurate timekeeping.
The evolution of Lady-Datejust Pearlmaster started many decades ago. In 1945, the first chronometer in the world manifested. It changed a lot of things for the Rolex brand. But, specifically, it changed the date display. Of course, the name at the time was just Rolex Datejust because it was masculine. Fast forward to 1992, decades after the first Date-just, the Lady-Datejust came alive. It is the much more elegant version of the watch.
Today, it is one of the most popular watches among ladies because of its elegance. But also because of the rich history that it has.
Durability and reliability
You do not only rely on your Lady-Datejust to tell you the accurate time. You can also rely on it for longevity and durability. Frankly, the Rolex brand has been able to churn out durable watch after watch. The Lady-Datejust is just another watch on the radar. It has high-quality materials that can withstand wear and tear. It is also one of those Rolex watches that resist water up to 100 meters/330 feet.
The Lady-Datejust Pearlmaster comes in a range of sizes and materials. You already know what this means. Having various materials for watches mean that they can function on different occasions.
Whether you prefer a smaller, or a larger, statement piece, there is Lady-Datejust for you. The only thing you would need to do to ensure a perfect watch day is to pick the right size.
Rolex is one of the most respected watch brands in the world. There is hardly a place a Rolex is where people do not recognize the brand. So, it is easy to see how owning a Rolex watch is a symbol of prestige and status. This model is a particularly exclusive model, with a limited production run.
Owning a Rolex Lady-Datejust Pearlmaster
There is more to Rolex Lady-Datejust Pearlmaster than what meets the eye. Undoubtedly, beauty is one of its greatest assets. So, anyone who gets to wear or own one gets to feel elegant when they wear it. However, owning a Lady-Datejust is not about a luxurious timepiece on your wrist. It is about history and significance. It is about a work of art that has different important functions. Here are some important things that your Rolex Lady-Datejust Pearlmaster represents:
When you wear a Lady-Datejust Pearlmaster, you're not only wearing a watch but also a legacy. Rolex has been crafting fine timepieces for over a century. Lady-Datejust Pearlmaster is a testament to their commitment to quality. It is also how we know Rolex is not relenting in producing watches that have precision. It's a watch that designers have worked on over decades. Each iteration showcases the latest in technology and design.
The fact that Rolex has been around for this long means that it has a legacy that many other watches pray for. With their recent innovations and updates, the brand is certainly going to be around for a very long time.
Rolex Lady-Datejust Pearlmaster is a work of art that's timeless and modern. The watch's design is a testament to the skill that goes into creating such a masterpiece. It excels in function, which is why most people buy it. Although it is also a sight for sore eyes, making it a great choice for fashion ladies. Owning this watch is a reminder that sometimes, the finer things in life are great.
Factors to Consider Before Choosing a Rolex Lady-Datejust Pearlmaster
The Rolex Lady-Datejust is a watch for those who appreciate the fine things in life. It is for the ladies who demand the best and want to make a statement with their timepieces. It's also a watch for those who value quality craftsmanship, timeless design, and style. Do you fall into any of these categories? Then, the Rolex Lady-Datejust Pearlmaster is the perfect watch for you.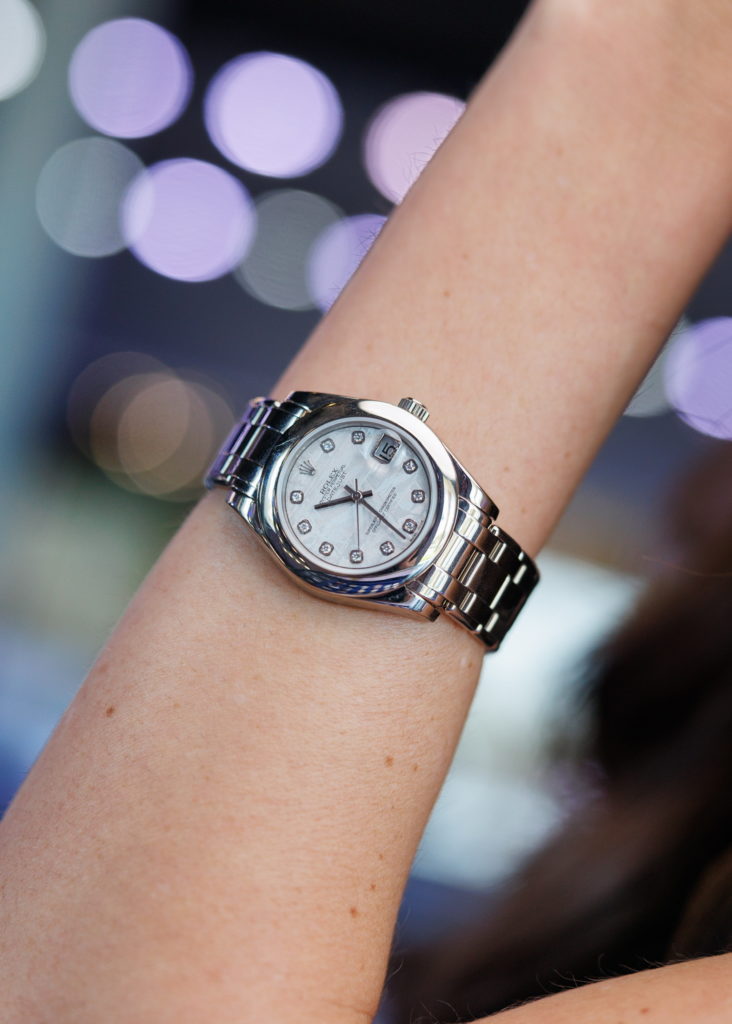 If you're considering investing in a Lady-Datejust, there are a few things to consider. Each of these things will help you to choose the right model:
As a fashion enthusiast, you certainly know what you like, and the types of pieces that elevate your look. One of the most important factors to consider when choosing a Lady-Datejust is your style. The watch comes in a variety of sizes, materials, and color options. So, it's essential to choose one that suits your taste and complements your style.
If you prefer a more understated look, you may opt for a Lady-Datejust Pearlmaster with a plain bezel. But if you like to make a bold statement, you may go for a watch with a diamond-encrusted bezel.
The Lady-Datejust Pearlmaster is available in a range of sizes, from 29mm to 39mm. So, it's important to choose a size that fits comfortably on your wrist. Anyone with a smaller wrist is better off with a smaller-size watch model. If you prefer a larger watch, you may opt for a 39mm model. You should try on the watch and ensure that it fits comfortably on your wrist before you buy.
The material of the watch
The material of the watch is an important factor to consider when choosing any type of watch. Since the Lady-Datejust is ideal, then it makes sense to check the materials.
Checking the material of this watch to helps to determine the one you like. The material affects the style, and they range between 18ct yellow, white or everose gold. Whichever one you choose, ensure that it is something you genuinely love.
If you prefer a classic, timeless look, you may opt for a Lady-Datejust Pearlmaster in 18 ct gold. If you prefer a more modern look, you may choose the platinum model. It's important to consider your style and budget when choosing the material for your watch.
The features of the watch
Have you ever seen a watch, and wondered what made it different? If you will be getting the Rolex Lady-Datejust Pearlmaster, this is a good way to start. Get to know your watch, specifically, the features. You want to know the water resistance, calendar, and time function. You also want to know the type of gemstone that designers have used to make it happen.
Consider the features of the watch when choosing your Lady-Datejust Pearlmaster. You would want a watch with at least up to 100 meters water resistant if you swim often. So, find out if this is what is going to give you that. Also find out the dial color, and the hand's type. Do these features fit or closely fit into your dream? If they don't, keep looking. But, if they do, you may have just what you need at your beck and call.
Rolex watches are going to demand from you as much as it is capable of giving you. So, expect to spend your money if you want this model. Nevertheless, it is still wise to try and cut the cost where necessary.
Of course, the price of the watch can vary depending on factors such as the size, and materials. Pick your budget before buying and look for a model that fits within your price range.
The resale value of the watch
Rolex watches are popular for their high resale value, and this is no exception. When choosing your watch, consider factors such as the popularity of the model. Is the Lady-Datejust popular in the right places, and among the elites? Answering this question will let you know whether the piece is worth buying or not. Questions concerning the condition of the watch are good too. The condition of a Lady-Datejust can affect its resale value in the future.
The occasion and purpose of the watch
Dates and outings are different. So, you should remember that before choosing your Lady-Datejust Pearlmaster. Although this special model is ideal for almost all types of outings. You must then make sure that you are picking the right size, color, and material of the watch for that occasion. And when the watch is not the perfect fit for a dress, it is also okay to go for other models. This is better than looking awkward with the watch around your wrist at an event.
The reputation of the seller
When purchasing a Lady-Datejust Pearlmaster, it's important to buy from a reputable seller. Look for authorized dealers or sellers with a record of selling authentic watches. Avoid purchasing from unverified sellers or online marketplaces. When you do not verify your seller, you put yourself at risk of buying a fake watch.
The maintenance and servicing of the watch
Like any luxury timepiece, the Lady-Datejust Pearlmaster requires regular maintenance to ensure longevity. So, ask yourself this: is this a watch I can manage well in my house, considering what I do? If your answer is yes, then you are good to go. You also want to confirm the availability of service centers before you buy. You need to know this because your watch would be needing maintenance and repairs. And, of course, it is the authorized service centers that make this possible for you.
Conclusion
Rolex Lady-Datejust Pearlmaster is a top watch for a variety of reasons. Its elegant and timeless design, incredible features, and high-quality materials. The advanced technology makes it a must-have for any luxury watch enthusiast. There is no doubt that it is a top contender in the luxury watch market.
But it's not only the aesthetics that make the Lady-Datejust Pearlmaster a top watch. Owning a Rolex watch is an experience in and of itself. It's a symbol of success, hard work, and dedication. When you wear a Rolex, you're not only wearing a watch, you're wearing a piece of history.
Whether you want to celebrate, or make history, the Rolex Lady-Datejust is perfect. It's a watch that will last a lifetime and will continue to hold its value for years to come.