Yellow and White Gold Diamond-Crusted Bangles
Gorgeous bracelets such as yellow and white gold bangle bracelets are a great way to show off your signature style. One of the best things about bracelets is that they come in many different shapes, sizes, and styles. This means it is possible to find the perfect bracelet for you. Whether you are looking for something to wear daily or you want to find that show-stopper piece for your next social event, bracelets are a good way to go.
There are bracelets for every taste, budget, and style – from simple to ornate designs. They look great with pretty much any style and can easily pair with a range of other accessories. By choosing both yellow and white gold, you get that two-tone look, but without actually having a two-tone piece. This also means that as easily as you can wear these two bracelets together, you can also wear them on your own as well. The tiny diamonds that feature in this bracelet give off a surprising amount of sparkle and make whatever you pair it with just a little more glamorous. 
Choosing Fine Accessories
If you care about the quality and construction of your accessories, chances are you are willing to pay that little extra to ensure that what you get is the best piece possible. Each and every piece we have in our display cases at Diamonds By Raymond Lee is of the highest quality. Whether you are looking at these yellow and gold diamond-studded brackets, or something for a special someone in your life, we have you covered. We have the most stringent standards of quality. This gives our clients the peace of mind that anything they find in our stores is going to be a good value and well-made.
We feel that quality is worth a little bit extra. If you are going to wear something to show off the beauty of a metal or a gemstone, you want to do it justice. If you choose a subpar specimen, you are most certainly not doing it any justice. Any piece within our display cases is going to be a fine example of whatever it is. Whether it is a piece of diamond jewelry or a high-end watch, it is going to be well-made and feature only high-quality materials. We believe that anything you buy from us should stand the test of time. 
Show Off Your Personal Style
In a world where everyone has a brand and wants to set themselves apart from the proverbial crowd, it seems to be becoming ever more difficult to do so. But one of the best ways we can show off who we are is with a signature style that is all our own. We develop a signature style through the clothing we wear, how we do our hair and makeup, and the accessories we choose. Taken together, this creates a look that we hope will express something about ourselves to the world. 
Carefully chosen accessories are a great way to take control of this look and ensure that it is giving off the vibe you want it to. Pairing different accessories that express something about your style can come together to create a really special look. Something like the yellow and white gold bracelets we feature here pair well with tons of other accessories. With their stylized flowers and the addition of pave-style diamonds, you get something that is whimsical, yet luxurious. But it also isn't so over-the-top that you can't wear these bracelets on a regular basis. They can easily become part of your signature look.
Bracelets
Bracelets are actually a pretty broad category of accessories that encompass many different styles. There are a lot of different types of bracelets, more than we can go over in a short piece. Some of the most common and popular are snap bracelets, chain bracelets, and as we see here, bangle bracelets. A snap bracelet can look a lot like a bangle bracelet, but it will have some sort of closure or fastener, whereas some kinds of bangle bracelets are slid over the hand. Snap bracelets can come in many shapes and sizes and many chain bracelets feature a snap closure. 
Chain bracelets are those that feature interlocking links of metal. These may also have gemstones or other adornments in them. You can find these with fasteners similar to what you see on bracelets, as well as snap closures. Finally, bangle bracelets, like our yellow and white gold diamond bracelets that feature here, are another popular style. While these can have a snap closure, they are often made to slide over the hand. This means there is no closure or snap on the bracelet. Rather, it is a single ring of metal. 
Bangle Bracelets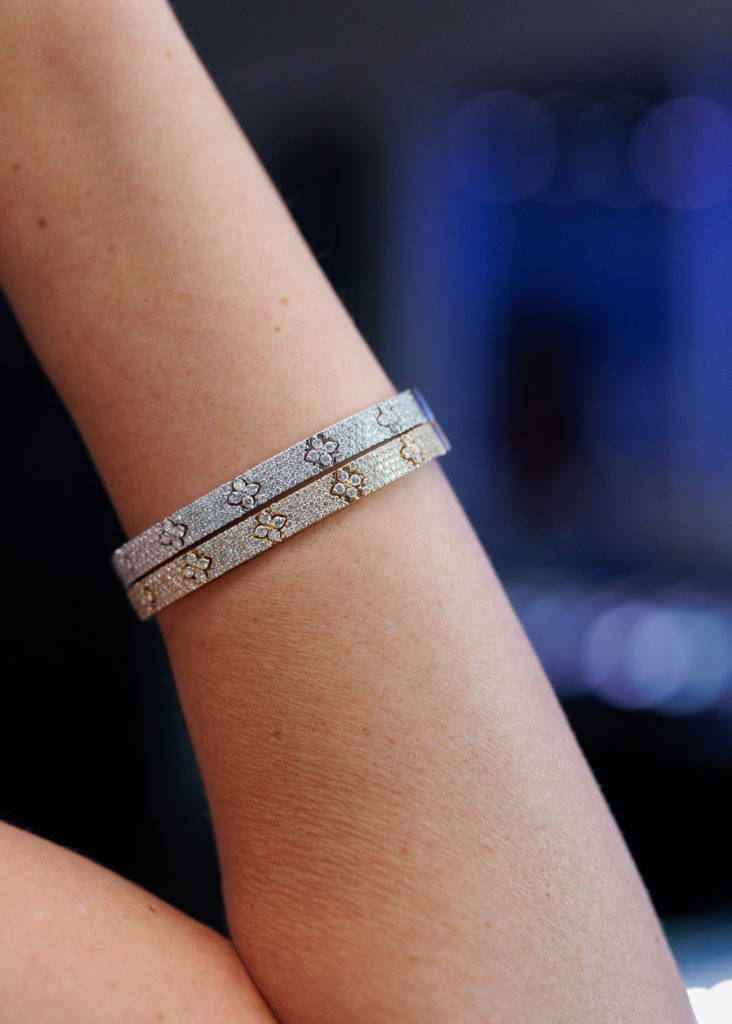 There are many reasons to love the bangle bracelet, whether you choose one that goes directly over the hand or one that has a snap closure. One of the things that people like about bangles is that they can be thicker than most other styles of bracelets without looking strange. What we have here are two fairly thin bangles that feature two different kinds of gold. Since they are rather simple in design, they make a great option for something you can add to your signature look and style. 
But, they also have pave diamonds that give these bracelets a ton of sparkle. While they have that element of glamor, it is offset with a fun and more stylistic image of a flower that goes across about half of the bracelet. Half of the bracelet is covered with fine, tiny, sparkly diamonds, and the rest is smooth white or yellow gold. These two bracelets can be worn together, which creates an elegant two-tone look. But they can also be worn separately as well. They look great with jewelry made with other gemstones, as well as other pieces of diamond jewelry. Bangle bracelets like those that feature here will look good with both casual and formal attire as well.
Pave-Style Diamonds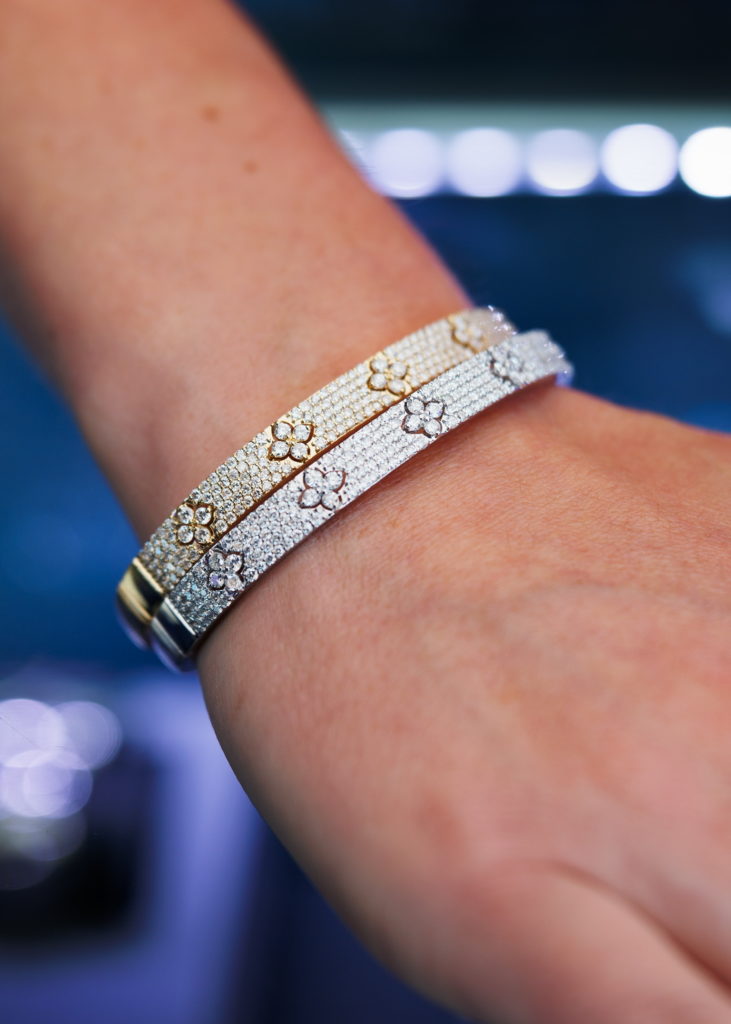 As we have discussed, both the yellow and white gold bracelets we feature here have diamonds running across half of their circumference. These are really small diamonds that almost look like one continual sparkle. These are what we call pave diamonds. Pave is French for pavement. These stones get their name from the fact that they look like a continuing row of diamonds that "pave" whatever they cover. The size of the stones allows for a lot of light refraction and a fun play of light that you don't get from larger stones.
Like many diamonds that are cut to maximize sparkle, a pave diamond is in a round brilliant-cut shape. What sets it apart from round brilliant cuts is the size of the stone. You will find pave diamonds as small as it is possible to work. Each stone has a ton of small facets cut into its surfaces. This is what causes the play of light that gives the stones the brilliance that so many of us love. The pave diamonds add fun sparkle and a bit of extra glamor to these two simple, yet elegant, bangle bracelets. 
Yellow Gold
We are looking at a pair of bracelets in yellow and white gold. While we very much like the way they look together, you can easily wear them on their own. So it does make sense to take a look at each of them separately. The yellow gold version of the diamond-studded bracelet has that traditional and well-known buttery yellow hue. A lot of people like yellow gold as it is the quintessential color that many of us associate with luxury. There are other yellow metals, but gold has a look that is unmistakable. Since humans found gold nuggets and flakes on and in the ground, we have done work on them to use them as decoration or personal adornment.
But, as our ancestors quickly learned, gold is far too soft for certain uses as-is. If you were to try to work pure gold into a piece of jewelry, it would quickly lose its shape. Pure gold doesn't have the strength for this purpose. So pure gold is actually made into an alloy, or blend, with copper, zinc, or a host of other metals. These metals will help the gold retain its unique color, but they will give it the strength and durability it needs to be feasible for use in jewelry.
White Gold
White gold is another popular kind of gold. Our two-tone yellow and white gold pair of bracelets that we feature here boasts both of the most popular kinds of gold. White gold is really unique, in that it has some of the elements that make gold so popular, but also additional ones. What is interesting is that white gold saw its development as a more affordable alternative to platinum. Platinum has a cool silver hue that looks great with a wide range of different gemstones. The thing about it is that it is incredibly rare and incredibly expensive. But, if you mix pure gold with different kinds of silver metals, you get something that has that coolness, at a much less expensive cost. 
White gold, like its buttery yellow counterpart, is also an alloy. However, rather than being mixed with copper, pure gold is palladium, nickel, or other silvery metals. This is where it gets that cooler hue but that is far less expensive than platinum. Oftentimes, white gold will have a chromium or platinum coating to give it an even cooler and silvery hue. If you have a piece of white gold that has a chromium coating, you may have to occasionally have it recoated. 
Pairing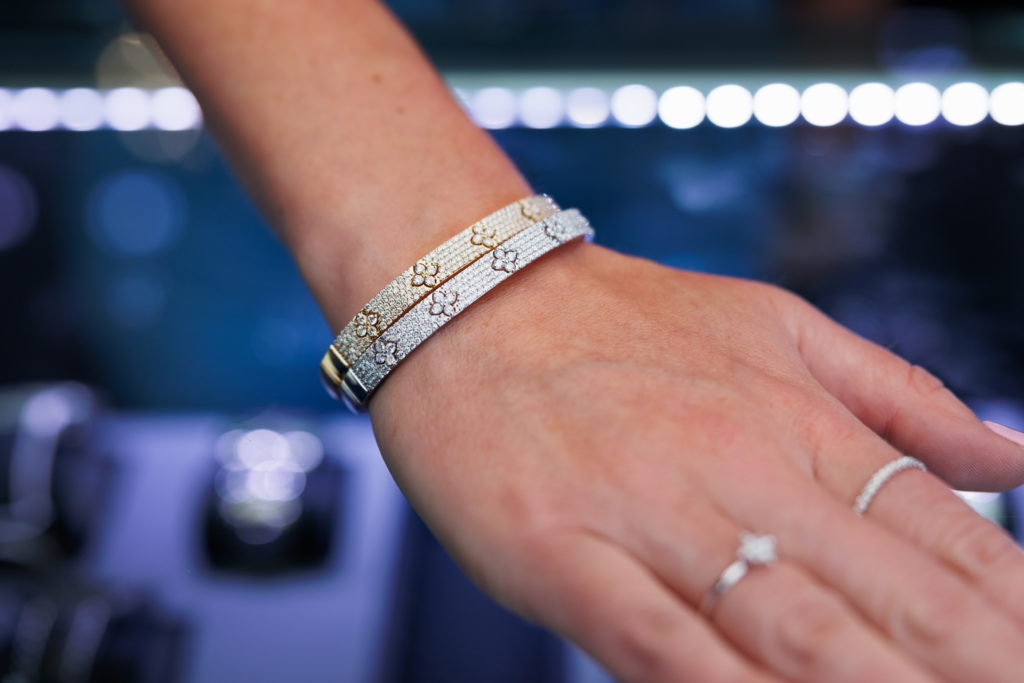 There are many things to love about the yellow and white gold diamond bracelets that we feature here. The look we like most is the two of these bracelets worn together. What we love about it is the two-tone effect it takes on. It almost looks as if you are wearing one wide, two-tone gold and diamond bracelet. But the benefit is that it isn't and you can also wear these pieces separately as well. Whether you wear them together or on their own, another thing we love is how well they pair with other accessories as well.
You can easily pair these bracelets with other pieces of gold jewelry – no matter what color of gold we are talking about. They also look great with diamond and other fine gemstone jewelry. These bracelets can be worn with necklaces, rings, earrings, and more. You can also pair them with other bracelets or even high-end watches. The sky really is the limit with your pairing options here. And, the bracelets will look just as great with a pair of jeans and a t-shirt as they do with something a bit more formal.
In Closing
Creating a look that is unique to you is something that a lot of us want, but maybe don't know how to do. One of the first things you need to do is throw out the rulebook. There are no rules when it comes to making your own signature look. The clothes, makeup, hair, and accessories you choose will help you define your look as, well, your own. We think that accessories are one of the best and easiest ways to really shape our look exactly how we want it. We love the bracelet and think it makes a great addition to any look. Here, we are looking at a pair of yellow and white gold bangle bracelets. 
These elegant bracelets feature sparkly pave-style diamonds across half the bracelet. Within these tiny sparkly diamonds, stylistic flowers are demarcated. This gives these bracelets a fun and whimsical style but doesn't take away from their elegance. The bracelets are easily worn together, creating the look of one wide two-tone gold bracelet. You can also wear these bracelets separately and with other fine jewelry. They will make a great addition to your signature look and let you show off your love of nature as well as the sparkle and shine of diamonds.